Dance of Life!
Come to strictly with us!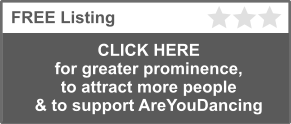 Contact Organiser
Contact Name: Angelo Ruggieri
Dance Styles: American Smooth, Argentine Tango, Bachata, Ballet, Cha Cha (Ballroom), Cha Cha (Club), Contemporary, Foxtrot, Jazz, Jive (Ballroom), Line Dance, Mambo, Merengue, Modern, Modern Tango, Paso Doble, Quickstep, Rumba, Salsa, Samba, Viennese Waltz, Waltz, West Coast Swing
Roles: Event Organiser, Dance Teacher, Wedding First Dance, Private Lessons, Dance Performance
Main Area: London EC
Website: www.danceoflifestudio.com
Created: 29 Sep 2010, 8:53 p.m. Last Edited: 1 Mar 2011, 11:54 p.m.