Hot Ginger
A night of retro style, retro dance and retromance!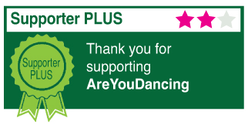 About Hot Ginger
Hot Ginger began life in 2009 as a night of 'retro style, retro dance, retromance' in Birmingham, UK and founded by Andy Conway and Stephen Badham.
Since 2009 Andy has moved on to other interests, but Hot Ginger continues to be run by Stephen with his wife Kerstin Treder.
Hot Ginger runs swing dance classes, workshops and events in Birmingham. Over the years we have hosted weekend workshops with international dance teachers such as Mel and Jo Calanglang, Bobby White and Kate Hedin and Micky Fortanasce and Kelly Arsenault.
Balboa Instruction
Stephen and Kerstin have been dancing Balboa together since 2008 and have attended many international workshops to hone their skills, including The Balboa Experiment, Frenchie Balboa Festival, BalBreak and All Balboa Weekend. They have placed in several Balboa competitions at events including at London Balboa Exchange, Edinburgh Balboa Exchange, Thames Valley Balboa Festival and The Balboa Gathering.
Stephen and Kerstin are available to run swing dance classes and workshops, or for private classes.
DJing
Stephen has been DJing swing music for a number of years at various events around the UK including Last Stop Balboa, The Swing Fastival, BalBreak, Thames Valley Balboa Festival and regular swing dances across Birmingham.
Stephen is available to DJ at swing events.
You can email your questions and enquiries to info@hotginger.org.
Contact Name: Stephen Badham
Dance Styles: 1940s Jive, Balboa, Blues, Boogie Woogie, Charleston, Collegiate Shag, Jazz Steps, Laminu, Lindy Hop, West Coast Swing
Roles: Event Organiser, Dance Teacher, Regular Dance Classes, Private Lessons, DJ, Event Photographer
Events: Festival
Main Area: West Midlands
Website: http://www.hotginger.org/
Forthcoming Events
Date
Event Name/Venue
Description/Dance Styles
Birmingham Swing Festival 2019
Birmingham, UK
Festival
A weekend of Swing dancing for all levels, with late-night parties & competitions!
Balboa, Lindy Hop