Love2Jive
Modern Jive classes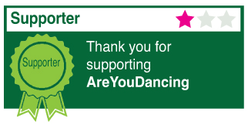 About Love2Jive
Our dance classes are held on Tuesday nights at Waterlooville Community Centre. 10 Maurepas Way Waterlooville PO7 7AY. 8:00pm - 11:00pm.
Beginner and intermediate routines are taught by qualified Le-Roc dance teachers plus 1:1 help and advice on hand by our friendly demonstrators, coaches and crew .
Come along and have fun, not only learning to dance but meeting new people and socialising as well.
You will have plenty of time for freestyle dancing inbetween and after the lessons. We also hold 'Themed Freestyle' evenings periodically. Check our our website for the next upcoming event.
Friendly atmosphere - excellent dance floor - polular music by our resident DJ - bar open until 11:00pm
- free tap water provided (you will need to bring your own cup or glass)
We look forward to welcoming you.
Contact Name: Anne Morton
Dance Styles: Leroc
Roles: Dance Teacher, Regular Dance Classes, Private Lessons
Main Area: Portsmouth
Website: http://www.love2jive.com/