Harborough Swing Dance
Lindy Hop & Balboa Dance Classes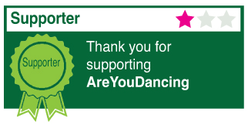 About Harborough Swing Dance
Lindy Hop Dance Classes and Balboa/Bal-Swing Workshops and Practise Nights.
Our aim is to get people onto the dancefloor confidently and as soon as possible.
Come and learn the foundation steps and moves to these 1930's/40's Dance Styles in a relaxed and fun environment.
Private lessons available daytime and evening - please call for details.
Contact Name: Ray & Ali Carver
Dance Styles: 1940s Jive, Balboa, Charleston, Collegiate Shag, Foxtrot, Lindy Hop, Old Time Dancing
Roles: Event Organiser, Dance Teacher, Regular Dance Classes, Private Lessons
Main Area: Leicestershire