YDC Dance Studios
One of the Midlands Premier Dance Studios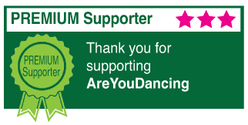 About YDC Dance Studios
One of the midlands leading dance studios for over 20 years with a lovely Dance hall which we affectionately call 'The Ballroom' and a super coffee bar area that doubles as a practice studio. Also a large car park is a bonus.
The principle, Alan Young, is a fellow and examiner of the UKA. He has a background in competitive Modern Ballroom and Latin American dance with many championship wins. Highlights include appearances on Come dancing in the early '90's and representing the country as a Youth in the 80's. Also holding a World Championship in Western Line Dance he has over 45 years of experience in the dance industry.
The focus at YDC is to for our customers to have fun as they develop friendships and learn new skills. We're very proud of our friendly atmosphere that accommodates both children and adults alike and look forward to welcoming you at one of our classes or events soon.
Contact Name: Alan Young or Karen Tarrier
Dance Styles: American Smooth, Cha Cha Cha (Ballroom), Foxtrot, Jive (Ballroom), Mambo, Modern Tango, Paso Doble, Quickstep, Rock n Roll, Rumba, Salsa, Samba, Popular Sequence, Viennese Waltz, Waltz, West Coast Swing
Roles: Event Organiser, Dance Teacher, Regular Dance Classes, Private Lessons, Child Classes
Main Area: Walsall
Website: http://www.ydcdancestudios.com/