Island Dance Wizards
The friendliest Classes, Workshops, Private Lessons & Dance Events on the Isle of Wight and beyond!!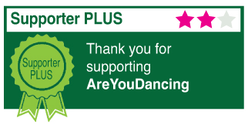 About Island Dance Wizards
We run friendly, fun partner-dancing Lessons, Workshops and Events. You don't need any dance experience, you can start any week and (apart from some selected Workshops) you don't even need to bring a partner! We employ only full time professional dance teachers and concentrate on really learning to move and improvise/react as a couple rather than just on memorising steps.
Most of our Dance Lessons have a Practica/Freestyle at the end to give you a chance to practice, socialise and have fun (we'll be on hand to answer any questions or assist on lapses of memory!). Unless you wish to book for a whole course on Special Offer, you pay only for each session you attend. We always aim to have a relaxed, fun atmosphere and welcome feedback by email!
*** We also run Freestyle Dance Parties in Newport, IOW and regular Workshops at a variety of venues (on the Mainland and on the Island) - email for more details!! ***
Exhibition Dancing, Choreography, Show Tuition, Teacher Training and Special Occasion (Wedding First Dance, Proms, Cruises etc.) Tuition are also available by appointment.
Contact Name: Basil Barrett
Dance Styles: 1940s Jive, Argentine Tango, Bachata, Ballet, Blues, Cha Cha (Club), Charleston, Leroc, Merengue, Modern Jive, Rock n Roll, Salsa, Salon Tango, Tango Nuevo, Fantasia, Milonga, Tango Vals, Tango Fusion, Contemporary Blues, Traditional (USA) Blues, Blues Fusion, Smooth Modern Jive
Roles: Event Organiser, Dance Teacher, Regular Dance Classes, Wedding First Dance, Private Lessons, Dance Performance
Events: Class
Main Area: Isle of Wight
Forthcoming Events
Date
Event Name/Venue
Description/Dance Styles
Smooth JIVE & Blues Class/Freestyle
Methodist Church Hall Sandown
Class
Combinaton Class Night for Smooth Modern Jive and/or Blues Dancers - Beginners Welcome!
Blues, Modern Jive, Contemporary Blues, Traditional (USA) Blues, Smooth Modern Jive
Argentine Tango Classes + Practica
The Chapel at Winchester House
Class
Friendly & Fun: Beginners & Intermediate/Advanced Tango lessons plus Social Dance/Practica
Argentine Tango, Salon Tango, Tango Nuevo, Tango Vals, Tango Fusion
Smooth JIVE & Blues Class/Freestyle
Methodist Church Hall Sandown
Class
Combinaton Class Night for Smooth Modern Jive and/or Blues Dancers - Beginners Welcome!
Blues, Modern Jive, Contemporary Blues, Traditional (USA) Blues, Smooth Modern Jive