Island Dance Wizards
The friendliest Classes, Workshops, Private Lessons & Dance Events on the Isle of Wight and beyond!!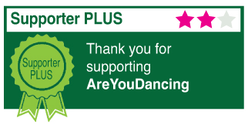 About Island Dance Wizards
We run friendly, fun partner-dancing Lessons, Workshops and Events.
You don't need any dance experience, you can start any week and (apart from some selected Workshops) you don't even need to bring a partner! We employ only full time professional dance teachers with International Dance Teaching experience, so you'll progress faster than at regular dance classes, but we concentrate on really having fun and learning to move and improvise/react as a couple rather than just on memorising steps.
Most of our Dance Lessons have a Practica/Freestyle at the end to give you a chance to practice, socialise and have fun (we'll be on hand to answer any questions or assist on lapses of memory!). There's no Course Fees or paying again to do do a second class the same evening - you pay only one drop-in price for each evening you attend. We always aim to have a relaxed, fun atmosphere and welcome feedback by email!
*** We also run Freestyle Dance Parties on the Isle of Wight and regular Workshops at a variety of venues (on the Mainland and on the Island) - email for more details!! ***
Exhibition Dancing, Choreography, Show Tuition, Teacher Training and Special Occasion (Wedding First Dance, Proms, Cruises etc.) Tuition are also available by appointment.
Contact Name: Basil Barrett
Dance Styles: 1940s Jive, Argentine Tango, Bachata, Ballet, Blues, Cha Cha (Club), Charleston, Leroc, Merengue, Modern Jive, Rock n Roll, Salsa, Salon Tango, Tango Nuevo, Fantasia, Milonga, Tango Vals, Tango Fusion, Contemporary Blues, Traditional (USA) Blues, Blues Fusion, Smooth Modern Jive
Roles: Event Organiser, Dance Teacher, Regular Dance Classes, Wedding First Dance, Private Lessons, Dance Performance
Main Area: Isle of Wight