WestCo's Swing
Weekly West Coast Swing classes in Petts Wood & Leatherhead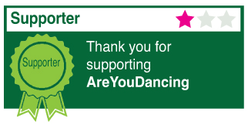 About WestCo's Swing
Come learn probably THE coolest dance on the planet - West Coast Swing
Watch this clip to see the fun and creativity this dance allows as well as the variety of music genres it can be danced to. It is a smooth, slotted dance which is accessible to everyone!
https://www.youtube.com/watch?v=v4fRV0aG3lc
WestCo's have been running West Coast Swing classes at Petts Wood for over 8 years. Now under the management of Pauline Dickson the club has grown and is proud to offer multi levelled classes and structured learning courses for Beginners with ongoing support from our crew to help you make the transition to feeling confident on the social dance floor.
We have recently been offered space to run a sister club in Leatherhead and this launches on April 16th 2018.
Please pop along to experience a warm welcome and a fun learning environment.
WHERE & WHEN?
Mondays from April 16th 7.30 - 10.30 Leatherhead Institute, 67 High St, Leatherhead KT22 8AH
Resident Teacher Phil de Bruin with guest teachers
Thursdays 7.30 - 11 The Daylight Inn, Station Square, Petts Wood, BR5 1LZ
Regular Teaching Team - Paul Warden, Richard James, Phil de Bruin, Fiona Gardiner
Pay On The Door Each Week £10 (with loyalty card stamp)
Discounted Beginners Courses Offered Regularly
All our teachers are available for private lessons. Contact direct to arrange.
Come Get Your WestCo's Groove on With Us!
Contact Name: Pauline Dickson
Dance Styles: West Coast Swing
Roles: Event Organiser, Regular Dance Classes
Events: Class
Main Area: Bromley
Forthcoming Events
Date
Event Name/Venue
Description/Dance Styles
West Coast Swing Dance Lessons
The Daylight Inn
Class
WestCo's Swing provide quality teaching in the coolest dance West Coast Swing on Thursdays
West Coast Swing
West Coast Swing Dance Lessons
Leatherhead Institute
Class
WestCo's Swing provide quality teaching in the coolest dance West Coast Swing on Thursdays
West Coast Swing
West Coast Swing Dance Lessons
The Daylight Inn
Class
WestCo's Swing provide quality teaching in the coolest dance West Coast Swing on Thursdays
West Coast Swing
West Coast Swing Dance Lessons
Leatherhead Institute
Class
WestCo's Swing provide quality teaching in the coolest dance West Coast Swing on Thursdays
West Coast Swing
West Coast Swing Dance Lessons
The Daylight Inn
Class
WestCo's Swing provide quality teaching in the coolest dance West Coast Swing on Thursdays
West Coast Swing
West Coast Swing Dance Lessons
Leatherhead Institute
Class
WestCo's Swing provide quality teaching in the coolest dance West Coast Swing on Thursdays
West Coast Swing
West Coast Swing Dance Lessons
The Daylight Inn
Class
WestCo's Swing provide quality teaching in the coolest dance West Coast Swing on Thursdays
West Coast Swing
West Coast Swing Dance Lessons
Leatherhead Institute
Class
WestCo's Swing provide quality teaching in the coolest dance West Coast Swing on Thursdays
West Coast Swing
West Coast Swing Dance Lessons
The Daylight Inn
Class
WestCo's Swing provide quality teaching in the coolest dance West Coast Swing on Thursdays
West Coast Swing
West Coast Swing Dance Lessons
Leatherhead Institute
Class
WestCo's Swing provide quality teaching in the coolest dance West Coast Swing on Thursdays
West Coast Swing