Silueta Tango
Argentine Tango classes and events in Bedford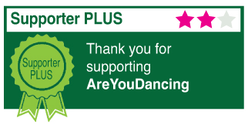 About Silueta Tango
We are a friendly, welcoming Argentine Tango club based in Bedford.
Class nights to cover all levels of ability are held every Monday evening at Renhold Village Hall, Wilden Road, Renhold, BEDFORD MK41 0LY, from 7.30 p.m.
Practica on the first and third Thursdays of each month (except August) at Ravensden Village Hall, MK44 2RL, from 8.00 p.m.
Private lessons available on Tuesday and Thursday evenings.
We also run milongas, visiting teacher workshops and other special events.
Monthly tea dances (usually on first Sunday of month):-
Silueta Sundays Tea Dance at Renhold Village Hall MK41 0LY, 2.00 p.m. - 6.00 p.m.
Please see our website for more details - www.siluetatango.com or call David on 07801 690135
Contact Name: Linda and David Newbury
Dance Styles: Argentine Tango, Salon Tango, Milonga
Roles: Event Organiser, Dance Teacher, Regular Dance Classes, Wedding First Dance, Private Lessons
Events: Class, Dance
Main Area: Bedfordshire
Website: http://www.siluetatango.com/
Forthcoming Events
Date
Event Name/Venue
Description/Dance Styles
Argentine Tango Classes
Renhold Village Hall
Class
Argentine Tango Classes in Bedford
Argentine Tango, Salon Tango
Silueta Sundays Tea Dance
Renhold Village Hall
Dance
Argentine Tango Traditional Tea Dance Milonga in Bedford
Argentine Tango, Salon Tango, Milonga, Tango Vals
Argentine Tango Classes
Renhold Village Hall
Class
Argentine Tango Classes in Bedford
Argentine Tango, Salon Tango
Argentine Tango Classes
Renhold Village Hall
Class
Argentine Tango Classes in Bedford
Argentine Tango, Salon Tango
Argentine Tango Classes
Renhold Village Hall
Class
Argentine Tango Classes in Bedford
Argentine Tango, Salon Tango
Silueta Sundays Tea Dance
Renhold Village Hall
Dance
Argentine Tango Traditional Tea Dance Milonga in Bedford
Argentine Tango, Salon Tango, Milonga, Tango Vals
Silueta Sundays Tea Dance
Renhold Village Hall
Dance
Argentine Tango Traditional Tea Dance Milonga in Bedford
Argentine Tango, Salon Tango, Milonga, Tango Vals
Silueta Sundays Tea Dance
Renhold Village Hall
Dance
Argentine Tango Traditional Tea Dance Milonga in Bedford
Argentine Tango, Salon Tango, Milonga, Tango Vals
Silueta Sundays Tea Dance
Renhold Village Hall
Dance
Argentine Tango Traditional Tea Dance Milonga in Bedford
Argentine Tango, Salon Tango, Milonga, Tango Vals
Silueta Sundays Tea Dance
Renhold Village Hall
Dance
Argentine Tango Traditional Tea Dance Milonga in Bedford
Argentine Tango, Salon Tango, Milonga, Tango Vals