Ceroc Plus
Ceroc Plus. The fun, social, partner dance Ceroc in Fleet and Alton, Hampshire.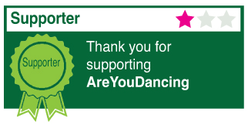 About Ceroc Plus
Ceroc Plus in Fleet is a great night for fun, social, dance. At Fleet we have classes from the fab Jules Manning and fantastic music through the freestyle, you can't go wrong. You don't need to bring a partner, you just turn up!
FORMAT FOR OUR DANCE NIGHTS
FLEET
8pm: beginners class (main hall)
9pm: intermediate class (main hall) and beginners practice session (bar area) with our taxi manager.
9.40 until 11.00: freestyle dancing
FREE tea coffee and biscuits after last dance.
VENUE
The Harlington
Fleet Road
Fleet
GU51 4BY
Beginners welcome every week
No need to bring a partner, just turn up!
Contact Name: Lisa Benson
Dance Styles: Cha Cha Cha (Ballroom), Modern Tango, Salsa, Street/Hip-Hop, Tango Fusion, Blues Fusion, General Dance Fitness
Roles: Event Organiser, Regular Dance Classes, Wedding First Dance, Private Lessons
Main Area: Hampshire
Website: http://www.cerocplus.co.uk/