Reading Swing Jam
Swing dance socials, workshops and classes in Reading, Berkshire.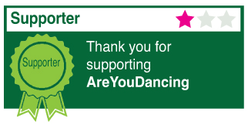 About Reading Swing Jam
Reading Swing Jam is a monthly swing dance social hosted in central Reading.
We teach weekly swing dance classes during term time with Reading University Swing Dance Society as well as solo jazz and charleston classes.
We also host workshops throughout the year, bringing exciting new teaching talent from the UK and abroad to the Berkshire swing scene.
Please check our website or facebook page for information about our classes and upcoming events.
Contact Name: J Maghzal
Dance Styles: Balboa, Blues, Charleston, Collegiate Shag, Jazz Steps, Lindy Hop
Roles: Event Organiser, Regular Dance Classes
Events: Dance
Main Area: Berkshire
Website: http://www.readingswingjam.co.uk/
Forthcoming Events
Date
Event Name/Venue
Description/Dance Styles
Sunday Swing
Oakford Social Club
Dance
A relaxed afternoon of swing jazz and dancing!
Balboa, Charleston, Collegiate Shag, Jazz Steps, Lindy Hop
Reading Swing Jam
Community Hall, Watlington House
Dance
A delightful monthly cocktail of hot swing tunes finished with a just dash of spicy blues!
Balboa, Blues, Charleston, Collegiate Shag, Jazz Steps, Lindy Hop
Sunday Swing
Oakford Social Club
Dance
A relaxed afternoon of swing jazz and dancing!
Balboa, Charleston, Collegiate Shag, Jazz Steps, Lindy Hop
Reading Swing Jam
Community Hall, Watlington House
Dance
A delightful monthly cocktail of hot swing tunes finished with a just dash of spicy blues!
Balboa, Blues, Charleston, Collegiate Shag, Jazz Steps, Lindy Hop
Sunday Swing
Oakford Social Club
Dance
A relaxed afternoon of swing jazz and dancing!
Balboa, Charleston, Collegiate Shag, Jazz Steps, Lindy Hop
Reading Swing Jam
Community Hall, Watlington House
Dance
A delightful monthly cocktail of hot swing tunes finished with a just dash of spicy blues!
Balboa, Blues, Charleston, Collegiate Shag, Jazz Steps, Lindy Hop
Sunday Swing
Oakford Social Club
Dance
A relaxed afternoon of swing jazz and dancing!
Balboa, Charleston, Collegiate Shag, Jazz Steps, Lindy Hop
Reading Swing Jam
Community Hall, Watlington House
Dance
A delightful monthly cocktail of hot swing tunes finished with a just dash of spicy blues!
Balboa, Blues, Charleston, Collegiate Shag, Jazz Steps, Lindy Hop
Reading Swing Jam
Community Hall, Watlington House
Dance
A delightful monthly cocktail of hot swing tunes finished with a just dash of spicy blues!
Balboa, Blues, Charleston, Collegiate Shag, Jazz Steps, Lindy Hop
Sunday Swing
Oakford Social Club
Dance
A relaxed afternoon of swing jazz and dancing!
Balboa, Charleston, Collegiate Shag, Jazz Steps, Lindy Hop