CurlyWurlyEvents Ltd
Modern Jive / Swing / Blues and LindyHop tuition and freestyles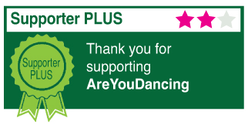 About CurlyWurlyEvents Ltd
Sounds a bit silly doesn't it, 'Curly Wurly'? But that's OK because we are about having a good time!
We are, however, VERY serious about the quality of our dance and music.
CurlyWurlyEvents was born .. providing lessons, workshops and freestyles in Swing, LindyHop, ModernJive and Blues dancing .. We also teach, perform and judge all over the UK.
Contact Name: Lisa Graydon
Dance Styles: 1940s Jive, Blues, Lindy Hop, Modern Jive, Rock n Roll, West Coast Swing
Roles: Event Organiser, Dance Teacher, Regular Dance Classes, Wedding First Dance, Private Lessons, DJ, Dance Performance
Main Area: West Yorkshire
Website: http://www.curlywurlyevents.com