Five Star Dancing
Ballroom and Latin practice social dance...free 15 minute Bachata Tango taster session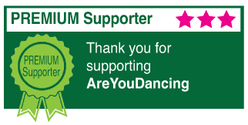 About Five Star Dancing
Ballroom and latin practice social dance.
Pay on door No tickets required
Music for ballroom, Latin, Bachata, rock n roll and Argentine Tango played
Also a little popular sequence music and dancing is included
Come and start dancing in our easy 15 minute Latin beginners class .
This Month.......Free 15 minute Bachata Tango taster session. Starts at 8pm.
dancing finishes at 10.30pm
Lots of room... so if you are a beginner come and give it a go, the first steps are always the hardest and we have all been there.
new venue with full air conditioning and secure on site car parking
Beautiful sprung wooden dance floor, good for your dancing and gentle on your joints.
Good Music... Good dancing... Good fun
Bring your own refreshments
Try it... live it... Love it...
Contact Name: FIVE STAR DANCING ballroom and latin social dance
Dance Styles: Bachata, Cha Cha Cha (Ballroom), Foxtrot, Jive (Ballroom), Modern Tango, Paso Doble, Quickstep, Rock n Roll, Rumba, Samba, Popular Sequence, Viennese Waltz, Waltz
Roles: Event Organiser
Events: Dance
Main Area: Leicestershire
Forthcoming Events
Date
Event Name/Venue
Description/Dance Styles
Dance Sale Have Fun Get Fit
Mountsorrel Memorial Centre
Dance
Ballroom and Latin dance Free Bachata Taster lesson
Argentine Tango, Bachata, Cha Cha Cha (Ballroom), Foxtrot, Jive (Ballroom), Modern Tango, Paso Doble, Quickstep, Rock n Roll, Rumba, Samba, Popular Sequence, Viennese Waltz, Waltz
Ballroom and Latin Dance
Mountsorrel Memorial Centre
Dance
Ballroom and Latin dance . Free Bachata Taster lesson
Argentine Tango, Bachata, Cha Cha Cha (Ballroom), Foxtrot, Jive (Ballroom), Modern Tango, Paso Doble, Quickstep, Rock n Roll, Rumba, Samba, Popular Sequence, Viennese Waltz, Waltz