Ceroc Surrey
Ceroc Dance classes across Surrey every day of the week.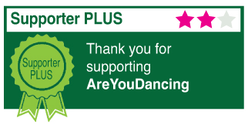 About Ceroc Surrey
Learning to partner dance with Ceroc is the largest and fastest growing dance organisation in the UK. Learning to dance is a great way to keep fit, socialise and enjoy a complete night out. Come and join the hundreds of new people who are learning to dance every week. One of the other great things about CEROC is that there's no need to come with a partner. Our teaching method means everyone changes partners during the class.
All CEROC nights starts with a beginners class for 45 minutes. Then there is a short freestyle session followed by the more challenging Intermediate class. After this 30 minute class, your night out really starts when the DJ takes command of the freestyle session. This is an hour and an half of pure uninterrupted dance where you can improve your dance style and soak up the atmosphere's addictive ambience.
Contact Name: Claude Robe
Dance Styles: Freestyle
Roles: Event Organiser, Dance Teacher, Regular Dance Classes, Wedding First Dance, Private Lessons, DJ
Events: Class, Workshop, Dance
Main Area: Surrey
Website: https://www.ceroc.com
Forthcoming Events
Date
Event Name/Venue
Description/Dance Styles
Ceroc @ Bourne Hall, Ewell
Bourne Hall
Class
Ceroc classes - No Partner Required - No Need to Book
Contemporary, General Dance Fitness
Ceroc @ Worplesdon Memorial Hall
Worplesdon Memorial Hall
Class
Ceroc classes - No Partner Required - No Need to Book
Contemporary, General Dance Fitness
Ceroc @ Assembly Rooms, Surbiton
The Assembly Rooms
Class
Ceroc classes - No Partner Required - No Need to Book
Contemporary, General Dance Fitness
Ceroc @ Mytchett Centre, Mytchett
The Mytchett Centre
Class
Ceroc classes - No Partner Required - No Need to Book
Contemporary, General Dance Fitness
Ceroc @ Village Hall, Byfleet
Village Hall
Class
Ceroc classes - No Partner Required - No Need to Book
Contemporary, General Dance Fitness
Ceroc @ Bourne Hall, Ewell
Bourne Hall
Class
Ceroc classes - No Partner Required - No Need to Book
Contemporary, General Dance Fitness
Ceroc @ Worplesdon Memorial Hall
Worplesdon Memorial Hall
Class
Ceroc classes - No Partner Required - No Need to Book
Contemporary, General Dance Fitness
Ceroc @ Assembly Rooms, Surbiton
The Assembly Rooms
Class
Ceroc classes - No Partner Required - No Need to Book
Contemporary, General Dance Fitness
Ceroc @ Mytchett Centre, Mytchett
The Mytchett Centre
Class
Ceroc classes - No Partner Required - No Need to Book
Contemporary, General Dance Fitness
Ceroc @ Village Hall, Byfleet
Village Hall
Class
Ceroc classes - No Partner Required - No Need to Book
Contemporary, General Dance Fitness