Carry on Dancing Club (Oxford)
Dancing for Oxfordshire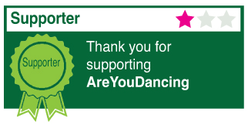 About Carry on Dancing Club (Oxford)
Now in our fifth year this event is now a firm favourite with all our dancing friends
In addition to the regular CD based evenings we also have two or three live music events planned during the year
That popular local duo Sugar & Spice will be appearing occsisionally and we hope to haveother musicians, in our plan to 'Keep Music Live' and hope you will look out for our announcements for the dates in question - some already marked.
All our dancing friends are welcome plus any new comers from Abingdon, and Wootton and surrounding villages.
Wooton is about 3 miles from the Oxford/ A34 ring road to the west of the city.
Travel to A34/Botley interchange at Oxford, then head on the A420 toward Faringdon, about 1 mile at the top of hill (adjacent to Cumnor Village) simply take Left exit for Wooton - about 2 miles.
Hall is opposite Bystander (Hungry Horse) Pub and Co-Op Supermarket in Wootton centre - plenty of of parking.
Contact Name: Margaret Meadowcroft
Dance Styles: American Smooth, Cha Cha Cha (Ballroom), Foxtrot, Jive (Ballroom), Modern Tango, Old Time Dancing, Paso Doble, Quickstep, Rumba, Samba, Popular Sequence, Viennese Waltz, Waltz, Modern Sequence
Roles: Event Organiser
Events: Dance
Main Area: Oxfordshire
Forthcoming Events
Date
Event Name/Venue
Description/Dance Styles
Carry on Dancing Cancelled Sorry
Wootton and Dry SandfordCommunity Centre
Dance
Our fifth year!
Cha Cha Cha (Ballroom), Foxtrot, Jive (Ballroom), Modern Tango, Old Time Dancing, Paso Doble, Quickstep, Rumba, Samba, Popular Sequence, Viennese Waltz, Waltz, Modern Sequence
Carry on Dancing Cancelled Sorry
Brownes Centre, Carterton
Dance
Our second Year
Cha Cha Cha (Ballroom), Foxtrot, Jive (Ballroom), Modern Tango, Old Time Dancing, Paso Doble, Quickstep, Rumba, Samba, Popular Sequence, Viennese Waltz, Waltz, Modern Sequence
Carry on Dancing
Brownes Centre, Carterton
Dance
Our second Year
Cha Cha Cha (Ballroom), Foxtrot, Jive (Ballroom), Modern Tango, Old Time Dancing, Paso Doble, Quickstep, Rumba, Samba, Popular Sequence, Viennese Waltz, Waltz, Modern Sequence
Carry on Dancing
Brownes Centre, Carterton
Dance
Our second Year
Cha Cha Cha (Ballroom), Foxtrot, Jive (Ballroom), Modern Tango, Old Time Dancing, Paso Doble, Quickstep, Rumba, Samba, Popular Sequence, Viennese Waltz, Waltz, Modern Sequence