Ceroc Fever
Learn Ceroc & have mid-week fun learning a new brilliantly social hobby!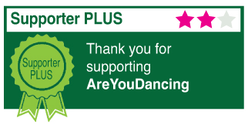 About Ceroc Fever
Ceroc is sweeping dance floors across the nation with 150 nights a week running in the UK... and abroad.
Your local venue is at Barton Hall in Horndean, PO8 9PQ every Thursday night.
* Ceroc prides itself on teaching great moves safely and in a fun and easy to learn way using only fully qualified teachers.
* Mix that with a variety of music carefully selected by our DJs from the latest chart toppers to good old classic favourites plus a great party atmosphere and you're in for a fun night out with us at Ceroc Fever!
~ Keep fit!
~ Meet new friends!
~ Have fun!
~ Learn a new brilliantly social skill!
~ Great mid-week fun each and every week!
Every night starts with a beginners class suitable for people for have never danced before followed by a short break for freestyle. Then we have 3 classes running at the same time in separate rooms depending on your level.
- a Beginners Practice Session
- an Improvers Class
- the Intermediate class.
Everyone is back in the main room for Freestyle until the end of the evening at 11pm.
Complete beginners are welcome every week, there's no need to book, no need for a partner - just turn up and we'll have you dancing and mingling in no time at all. Any queries? Please just drop us a line.
See you on the dancefloor!
Contact Name: Jo Hughes
Dance Styles: Leroc, Modern Jive, Smooth Modern Jive
Roles: Event Organiser, Dance Teacher, Regular Dance Classes, Wedding First Dance, Private Lessons, DJ
Events: Class
Main Area: Portsmouth
Website: http://www.Ceroc.com/fever
Forthcoming Events
Date
Event Name/Venue
Description/Dance Styles
Ceroc Fever - Horndean
Barton Hall
Class
Ceroc Dance classes suitable for all levels including complete beginners
Leroc, Modern Jive, Smooth Modern Jive
Ceroc Fever - Horndean
Barton Hall
Class
Ceroc Dance classes suitable for all levels including complete beginners
Leroc, Modern Jive, Smooth Modern Jive