Tango Bedford
Argentine Tango practica on Friday evenings at 8.30 pm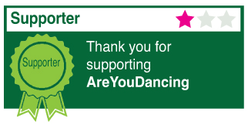 About Tango Bedford
When - Friday nights from 8.30-10.30pm
Where - Biddenham Village Hall, Nodders Way, (opposite The Three Tuns Pub) Biddenham near Bedford Mk40 4BJ
Cost - £4 pp
Music - Traditional, Nuevo, Modern, Blues,
Facilities - Great floor, good sound system, no bar, so bring your own.
A very friendly welcome awaits you at Biddenham. We are not a class but a group of enthusiastic tango dancers of very varying abilities that get together on a Friday night to practice. If we have discovered something new that we like, then we 'share' it. If someone can't get to grips with a move, or has any questions then we will help them if they want. There is no real hierarchy, and no specific dictates as to the music style. And why do we have it like this....well, because it's good to practice to all types of music, as Argentine Tango is a beautiful flexible expressive dance that can be adapted at any time, and some lighter tunes help make your soul smile for the weekend!
So do come and join us, and if you can spread the word too, it would be much appreciated....
Contact Name: John Steadman
Dance Styles: Argentine Tango, Salon Tango, Milonga, Tango Vals
Roles: Event Organiser, DJ
Events: Practice Night
Main Area: Bedfordshire
Website: http://bedfordtango.org.uk/
Forthcoming Events
Date
Event Name/Venue
Description/Dance Styles
Argentine Tango Practice
Biddenham Village Hall
Practice Night
Argentine Tango Practice
Argentine Tango, Salon Tango, Milonga, Tango Vals
Argentine Tango Practice
Biddenham Village Hall
Practice Night
Argentine Tango Practice
Argentine Tango, Salon Tango, Milonga, Tango Vals
Argentine Tango Practice
Biddenham Village Hall
Practice Night
Argentine Tango Practice
Argentine Tango, Salon Tango, Milonga, Tango Vals
Argentine Tango Practice
Biddenham Village Hall
Practice Night
Argentine Tango Practice
Argentine Tango, Salon Tango, Milonga, Tango Vals
Argentine Tango Practice
Biddenham Village Hall
Practice Night
Argentine Tango Practice
Argentine Tango, Salon Tango, Milonga, Tango Vals
Argentine Tango Practice
Biddenham Village Hall
Practice Night
Argentine Tango Practice
Argentine Tango, Salon Tango, Milonga, Tango Vals