Bojangles Jive
Beginners and Improvers 1940's and 50's Jive classes.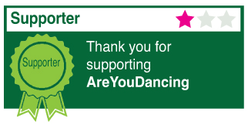 About Bojangles Jive
Bojangles Jive is a weekly jive class and social. On Monday nights in Kingston, we deliver Beginner's, Improver's and Intermediate classes. On a Wednesday in South Croydon, we offer two classes, a Beginners and an Intermediate class. Classes on both nights are followed by a short social dance to practice your new moves.
Both Venues have good dance floors, comfortable seating and licensed bars.
Depending on how many classes you choose to take part in the prices vary between £7.00 and £10.00. More information can be found on our Website. www.Bojanglesjive.co.uk
You don't need a partner so grab some comfy footwear and come on down to meet us. We look forward to seeing you soon.
Jackie & Derek
Contact Name: Derek Barrett
Dance Styles: 1940s Jive, Rock n Roll
Roles: Event Organiser, Dance Teacher, Regular Dance Classes, Private Lessons
Main Area: Croydon
Website: http://www.bojanglesjive.co.uk