Cheek2Cheek Dance
Discover the joy of dance! Classes and private lessons in Ballroom, Latin and Sequence dancing.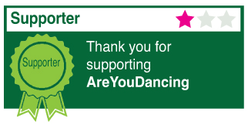 About Cheek2Cheek Dance
WEEKLY DANCE CLASSES:
Cheek2Cheek Dance runs weekly classes in Ballroom, Latin American and Sequence dancing. For solo dancers we run the Latin Rhythms class: 4 dance routines per month, lots of giggling and a modicum of exercise. Adults of all ages and abilities welcome.
PRIVATE DANCE LESSONS:
We offer lessons for couples and groups on demand – and our gift vouchers are popular.
LEARN TO DANCE IN A DAY!
If you're short on time or just want the basics for a wedding or other event, enrol on one of our Learn to Dance in a Day! workshops (10am – 2pm).
WEDDING DANCE LESSONS
If you need inspiration for the first dance at your wedding, we can help with uncomplicated choreography matched to your choice of music, your ability and any specific requirements that you might have. Of course, if you want something more complex then we can do that too!
TEA DANCES, FORMAL BALLS & DANCE TRIPS
We run one formal ball at Christmas with live music, catering and a chance to get dressed up and have a great night out – as well as smaller events like tea dances with recorded music. We also run Cheek2Cheek Dance trips – could be a weekend in Blackpool to dance at The Tower Ballroom or a day trip into London to dance at The Waldorf Hotel Tea Dance.
For classes and lessons, we use three venues with free car parking and wooden floors:
BOXFORD Village Hall, RG20 8DD
LAMBOURN The Walwyn Hall, RG17 8NU
WANTAGE Methodist Church Hall, OX12 8DA (parking at The Beacon OX12 9BX)
Contact Name: Alison Dean
Dance Styles: Cha Cha Cha (Ballroom), Foxtrot, Jive (Ballroom), Modern Tango, Old Time Dancing, Paso Doble, Quickstep, Rock n Roll, Rumba, Samba, Popular Sequence, Viennese Waltz, Waltz, General Dance Fitness, Modern Sequence
Roles: Event Organiser, Dance Teacher, Regular Dance Classes, Wedding First Dance, Private Lessons
Main Area: Swindon
Website: http://www.cheek2cheekdance.co.uk/