Epic Moves
We specialise in regular dance classes, private lessons and organising events.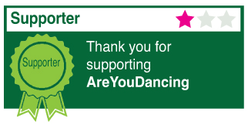 About Epic Moves
We organise 2 or 3 dance holidays a year up and down the country. We specialise in Latin, Ballroom and Argentine Tango.
We run regular Latin and Ballroom dance classes at Moulton Village Hall starting from the 27th September 2017.
We are also running regular Tea Dances at Moulton Community Centre on the second Tuesday of every month. The first Tea Dance will be held on the 12th September from 2pm - 4pm.
Contact Name: Joanne and Leighton Jones
Dance Styles: Argentine Tango, Cha Cha Cha (Ballroom), Contemporary, Foxtrot, Jive (Ballroom), Mambo, Merengue, Modern Jive, Modern Tango, Paso Doble, Quickstep, Rumba, Salsa, Samba, Popular Sequence, Viennese Waltz, Waltz, Milonga
Roles: Event Organiser, Dance Teacher, Regular Dance Classes, Wedding First Dance, Private Lessons, Dance Performance
Main Area: Northamptonshire