The 1086 Club
The 1086 Club offers freestyles for dance freedom in a friendly welcoming atmosphere.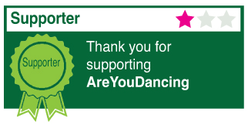 About The 1086 Club
We are a dance club providing twice monthly midweek freestyles and some weekend freestyles for smooth jive/modern jive / modern blues /tango dance fusion. The 1086 Club was created to give dancers a wide range of music to expand their dance experience and not to be held back by genres of dance styles and set music tempo - in short to provide dance freedom.
We are from a smooth jive background, however, our playlists are an eclectic mix which allows you to dance modern jive, smooth jive, modern blues.
We like to play music to suit a wide range of dancers with an emphasis on tracks that are upbeat, funky and fresh, with some expressive and slower tracks thrown in for a great mix. To listen to our music you can follow our playlists on YouTube - just search The 1086 Club
We also welcome suggestions and requests.
We aim never to overplay tracks, keeping the music current while will still playing dancer's favourites and dance classics.
Above all you will be able to have fun. :)
Contact Name: Claire Masser
Dance Styles: Modern Jive, West Coast Swing, Tango Fusion, Blues Fusion, Smooth Modern Jive
Roles: Event Organiser
Events: Dance
Main Area: Bournemouth
Website: http://www.the1086club.co.uk
Forthcoming Events
Date
Event Name/Venue
Description/Dance Styles
The 1086 Club's Party at the Pub
The Barn at the Elm Tree Pub
Dance
An afternoon of great dancing at a beautiful venue in the New Forest
Tango Fusion, Blues Fusion, Smooth Modern Jive
The 1086 Clubs' Party in the Castle
Highcliffe Castle
Dance
A splendid afternoon of dancing, 2 dance rooms, chill zone, licensed bar, amazing location
Modern Jive, West Coast Swing, Blues Fusion, Smooth Modern Jive