The 1086 Club
The 1086 Club offers freestyles for dance freedom in a friendly welcoming atmosphere.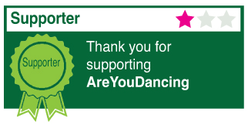 About The 1086 Club
The 1086 Club is a dance club for anyone who enjoys social partner dancing. A place for dance freedom. Whether you dance modern jive, smooth jive, WCS, Tango, the 1086 Club will have something for you. Lindy and Salsa dancers can also have fun - although we don't play tracks specifically for those genres.
We like to play music to suit a wide range of dancers with an emphasis on tracks that are upbeat, funky and fresh, with some expressive and slower tracks thrown in for a great mix. To listen to our music you can follow our playlists on YouTube - just search The 1086 Club
We also welcome suggestions and requests.
We aim never to overplay tracks, keeping the music current while will still playing dancer's favourites and dance classics.
Above all you will be able to have fun. :)
Ultimately our main aim is to provide the platform for all dancers to have fun and enjoy dance freedom.
'The 1086 Club' dance practice bi monthly and mostly on every 2nd and 4th Thursday of the month or sometimes we are on a Saturday evening or Sunday afternoon.
Time: 8pm - 11pm Thurs, 8pm - 11.30pm Sat, 3pm - 6pm Sunday.
Price: £5 (Thurs and Sunday) £7 (Saturdays)
Free squash, tea, coffee and water is provided.
Ample free parking at the hall itself and there is also free parking nearby.
Forthcoming Events
Date
Event Name/Venue
Description/Dance Styles
Dance
The 1086 Dance practice/freestyle
Verwood Memorial Hall
A dance practice freestyle night in a friendly social atmosphere
Leroc, Modern Jive, West Coast Swing, Tango Fusion, Smooth Modern Jive
Dance
The 1086 Club Spring Break Freestyl
Verwood Memorial Hall
A freestyle night in a friendly social atmosphere
Leroc, Modern Jive, West Coast Swing, Tango Fusion, Smooth Modern Jive
Dance
The 1086 Dance practice/freestyle
Verwood Memorial Hall
A dance practice freestyle night in a friendly social atmosphere
Leroc, Modern Jive, West Coast Swing, Tango Fusion, Smooth Modern Jive
Dance
The 1086 Dance practice/freestyle
Verwood Memorial Hall
A dance practice freestyle night in a friendly social atmosphere
Leroc, Modern Jive, West Coast Swing, Tango Fusion, Smooth Modern Jive
Dance
The 1086 Dance practice/freestyle
Verwood Memorial Hall
A dance practice freestyle night in a friendly social atmosphere
Leroc, Modern Jive, West Coast Swing, Tango Fusion, Smooth Modern Jive
Dance
The 1086 Club's Party at the Pub
The Elm Tree Pub
Sunday afternoon of great dancing in a beautiful converted barn.
Leroc, Modern Jive, West Coast Swing, Tango Fusion, Smooth Modern Jive
Dance
The 1086 Dance practice/freestyle
Verwood Memorial Hall
A dance practice freestyle night in a friendly social atmosphere
Leroc, Modern Jive, West Coast Swing, Tango Fusion, Smooth Modern Jive
Dance
The 1086 Dance practice/freestyle
Verwood Memorial Hall
A dance practice freestyle night in a friendly social atmosphere
Leroc, Modern Jive, West Coast Swing, Tango Fusion, Smooth Modern Jive
Dance
The 1086 Dance practice/freestyle
Verwood Memorial Hall
A dance practice freestyle night in a friendly social atmosphere
Leroc, Modern Jive, West Coast Swing, Tango Fusion, Smooth Modern Jive
Dance
The 1086 Dance practice/freestyle
Verwood Memorial Hall
A dance practice freestyle night in a friendly social atmosphere
Leroc, Modern Jive, West Coast Swing, Tango Fusion, Smooth Modern Jive