Movement In Dancing
Latin & Ballroom Dance Classes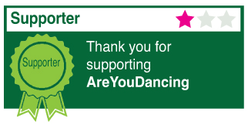 About Movement In Dancing
A little about us.
Here at Movement In Dancing we teach a Latin and Ballroom class Friday evenings, which include Quickstep, Tango, Samba, Waltz and Rumba just to name a few.
The social side of dancing is very important to us and after the classes there is time to practice, but also time to catch up with friends too. Refreshments are included in your admission fee, but please feel free to bring anything you fancy if you wish. There isn't a bar at Yelden Village Hall but you are welcome to bring your own "refreshments" if you wish too.
We run a 5 to 6 weeks rotation of the two dance styles and will from time to time run a freestyle/practice evenings too. We also have social get-togethers, a Christmas meal for example and other events.
And it gets better. We also run a Loyalty Card scheme. Each night to attend the classes we stamp your card, once full you get a FREE evening.
Find us on Facebook and Twitter for current classes, news and updates.
Contact Name: Alan Beer
Dance Styles: Cha Cha Cha (Ballroom), Foxtrot, Lindy Hop, Modern Jive, Paso Doble, Quickstep, Rumba, Samba, Viennese Waltz, Waltz
Roles: Event Organiser, Regular Dance Classes, DJ
Events: Class
Main Area: Bedfordshire
Website: http://www.movementindancing.co.uk
Forthcoming Events
Date
Event Name/Venue
Description/Dance Styles
Class
Movement In Dancing
Yelden Village Hall
Two Dance Classes, Social Dancing and Refreshments.
Cha Cha Cha (Ballroom), Foxtrot, Jive (Ballroom), Lindy Hop, Paso Doble, Quickstep, Rock n Roll, Rumba, Samba, Viennese Waltz, Waltz
Class
Movement In Dancing
Yelden Village Hall
Two Dance Classes, Social Dancing and Refreshments.
Cha Cha Cha (Ballroom), Foxtrot, Jive (Ballroom), Lindy Hop, Paso Doble, Quickstep, Rock n Roll, Rumba, Samba, Viennese Waltz, Waltz
Class
Movement In Dancing
Yelden Village Hall
Two Dance Classes, Social Dancing and Refreshments.
Cha Cha Cha (Ballroom), Foxtrot, Jive (Ballroom), Lindy Hop, Paso Doble, Quickstep, Rock n Roll, Rumba, Samba, Viennese Waltz, Waltz
Class
Movement In Dancing
Yelden Village Hall
Two Dance Classes, Social Dancing and Refreshments.
Cha Cha Cha (Ballroom), Foxtrot, Jive (Ballroom), Lindy Hop, Paso Doble, Quickstep, Rock n Roll, Rumba, Samba, Viennese Waltz, Waltz
Class
Movement In Dancing
Yelden Village Hall
Two Dance Classes, Social Dancing and Refreshments.
Cha Cha Cha (Ballroom), Foxtrot, Jive (Ballroom), Lindy Hop, Paso Doble, Quickstep, Rock n Roll, Rumba, Samba, Viennese Waltz, Waltz
Class
Movement In Dancing
Yelden Village Hall
Two Dance Classes, Social Dancing and Refreshments.
Cha Cha Cha (Ballroom), Foxtrot, Jive (Ballroom), Lindy Hop, Paso Doble, Quickstep, Rock n Roll, Rumba, Samba, Viennese Waltz, Waltz
Class
Movement In Dancing
Yelden Village Hall
Two Dance Classes, Social Dancing and Refreshments.
Cha Cha Cha (Ballroom), Foxtrot, Jive (Ballroom), Lindy Hop, Paso Doble, Quickstep, Rock n Roll, Rumba, Samba, Viennese Waltz, Waltz
Class
Movement In Dancing
Yelden Village Hall
Two Dance Classes, Social Dancing and Refreshments.
Cha Cha Cha (Ballroom), Foxtrot, Jive (Ballroom), Lindy Hop, Paso Doble, Quickstep, Rock n Roll, Rumba, Samba, Viennese Waltz, Waltz