RotherHop - SwingDanceRotherham&Barnsley
RotherHop is Rotherham's own swing dance community, putting on regular lessons and special events.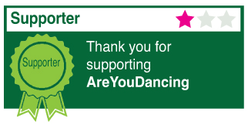 About RotherHop - SwingDanceRotherham&Barnsley
What was your new year's resolution? Was it to get a bit fitter? Be a bit more social? Learn something new?
Do you love jazz music, vintage chic and tea parties? Well look no further, because swing dancing has it all!
Learn the Lindy Hop and related styles with RotherHop, at Triple Threat Studios near Wickersley and Thurcroft.
We will soon begin teaching in central Barnsley too, at the Kim Frost School of Dance!
Our Monday (Rotherham) and Barnsley (Wednesday) night classes are very beginner-friendly and you don't need to bring a partner - though partners are very welcome too!
Just bring yourself, some comfortable clothes and flat shoes. (Trainers tend to be too sticky - leather or plastic soles are best.)
It's a sociable, low-pressure lesson which aims to be fun and equip you with the freestyle skills to step out wherever and whenever you catch a swinging beat!
Suitable for ages16+ and gentle enough for most physical abilities. With a special introductory offer of just £5 per person, what do you have to lose?
So get hep to the jive, swing cats! See you on the dance floor...
(See www.facebook.com/rotherhop or email rotherhop@gmail.com for more info. We are happy to consider any requests for dance tuition, demonstrations or taster classes. Please get in touch to discuss.)
Contact Name: Dave Doyle
Dance Styles: Charleston, Jazz Steps, Lindy Hop
Roles: Event Organiser, Dance Teacher, Regular Dance Classes, Wedding First Dance, Private Lessons, DJ, Dance Performance, Dance Clothes, Vintage Clothes, Event Photographer
Events: Class
Main Area: South Yorkshire
Website: http://www.facebook.com/rotherhop
Forthcoming Events
Date
Event Name/Venue
Description/Dance Styles
RotherHop @ Triple Threat Studios
Triple Threat Studios
Class
A swing dance school and community bringing classes and socials to Rotherham.
Charleston, Lindy Hop
SwingTrain @ DINA Venue, Sheffield
Dina Venue
Class
Swing dance-based fitness for all! (First class FREE!)
Charleston, Jazz Steps, Lindy Hop, General Dance Fitness, Strolls
RotherHop @ Kim Frost School Dance
Kim Frost School of Dance
Class
Adult swing dance classes bringing Lindy hop, Charleston, and more to central Barnsley!
Charleston, Jazz Steps, Lindy Hop
RotherHop @ Triple Threat Studios
Triple Threat Studios
Class
A swing dance school and community bringing classes and socials to Rotherham.
Charleston, Lindy Hop
SwingTrain @ DINA Venue, Sheffield
Dina Venue
Class
Swing dance-based fitness for all! (First class FREE!)
Charleston, Jazz Steps, Lindy Hop, General Dance Fitness, Strolls
RotherHop @ Kim Frost School Dance
Kim Frost School of Dance
Class
Adult swing dance classes bringing Lindy hop, Charleston, and more to central Barnsley!
Charleston, Jazz Steps, Lindy Hop
RotherHop @ Triple Threat Studios
Triple Threat Studios
Class
A swing dance school and community bringing classes and socials to Rotherham.
Charleston, Lindy Hop
RotherHop @ Kim Frost School Dance
Kim Frost School of Dance
Class
Adult swing dance classes bringing Lindy hop, Charleston, and more to central Barnsley!
Charleston, Jazz Steps, Lindy Hop
RotherHop @ Triple Threat Studios
Triple Threat Studios
Class
A swing dance school and community bringing classes and socials to Rotherham.
Charleston, Lindy Hop
RotherHop @ Kim Frost School Dance
Kim Frost School of Dance
Class
Adult swing dance classes bringing Lindy hop, Charleston, and more to central Barnsley!
Charleston, Jazz Steps, Lindy Hop