Evolve West Coast Swing
Evolve West Coast Swing provide Classes, Social Dances & Workshops in Milton Keynes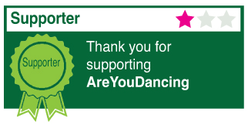 About Evolve West Coast Swing
Learn how to dance and meet new people with Evolve West Coast Swing in Milton Keynes!
West Coast Swing (WCS) is a fun, social partner dance from California that is quickly gaining popularity around the world!
This dance is probably the opposite of what you would expect, and is danced to a wide range of music from current Pop, RnB and Hip Hop, to Blues and contemporary music.
With it's roots in Lindy Hop, WCS follows a similar timing structure, but it has now evolved into a smooth slotted dance that is social, fun and highly regarded for it's creativity and musicality.
Quite frankly this is one of the most beautiful and fun Social Dances and we love it!
Our Tuesday classes are suitable for everyone at any level, even absolute beginners. Classes start at 7:30pm.
No partner required, all classes are rotated so you get to meet and dance with everyone.
Check out all the info at:
www.evolveswing.com
(Evolve West Coast Swing is run by Kevin and Aggie. Both accomplished All Star WCS Dancers who are known for their fun, engaging dance classes, strong focus on technique and unique approach to teaching.)
Contact Name: Kevin Town
Dance Styles: West Coast Swing
Roles: Event Organiser, Dance Teacher, Regular Dance Classes, Private Lessons, DJ
Main Area: Milton Keynes
Website: http://www.evolveswing.com