Dexter School of Dancing
We offer dance classes at all levels and for all ages for Ballroom, Latin, Modern Sequence and more.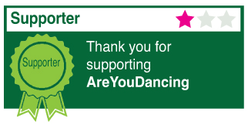 About Dexter School of Dancing
Established in 1960 by Peggy Dexter, known throughout the North East for her expertise as a highly respected dance teacher, Dexter School of Dancing is now one of the premier dance schools in the area. Continuing this legacy, her son, Tom Dexter, is now at the helm running a wide range of dance classes and training many dance teachers to his exacting standards. As President of the NCDTA, Tom in now more involved than ever in the promotion a development of dancing across the north-east.
Our mission is to deliver dance classes at beginner, intermediate and advanced levels in a range of different styles including ballroom, latin, old-time, line-dance and formation at various venues across the region. Private lessons are available to suit your individual needs.
Formerly located at Dexter's Grosvenor Dance Centre in Chillingham Road, Newcastle upon Tyne, Tom has now diversified into other venues across the north east area, places such as St Francis Scout Hall and Wallsend Labour Club in an attempt to make dancing available to a wider audience.
Contact Name: Tom Dexter
Dance Styles: Cha Cha Cha (Ballroom), Foxtrot, Jive (Ballroom), Line Dance, Modern Tango, Old Time Dancing, Quickstep, Rumba, Samba, Popular Sequence, Waltz, Modern Sequence
Roles: Event Organiser, Dance Teacher, Regular Dance Classes, Wedding First Dance, Private Lessons, Child Classes
Main Area: Newcastle upon Tyne
Website: http://www.dexterdancing.co.uk