Stephens Dance Club
Fellow BATD organising classes in Ballroom, Latin and Sequence for Adults and Children.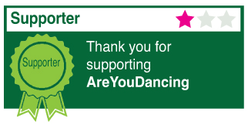 About Stephens Dance Club
Medal and Social Classes organised for Children and Adults in Preston Area. I have been operating a dance school for 30 years. I teach all forms and all levels of Ballroom, Latin and Sequence Dancing. I am a Fellow with British Association of Teachers of Dancing and regional Secretary of the North West Region of BATD. I am a Steward at all the British Open and Closed competitions and in 2018 was Presented with the Dance Festival Hall of Fame Award for services to the Festival.
Contact Name: Stephen Hargreaves
Dance Styles: American Smooth, Cha Cha Cha (Ballroom), Foxtrot, Jive (Ballroom), Modern Jive, Modern Tango, Old Time Dancing, Paso Doble, Quickstep, Rumba, Samba, Popular Sequence, Viennese Waltz, Waltz, Modern Sequence
Roles: Dance Teacher, Regular Dance Classes, Child Classes
Main Area: Lancashire