Platinum Jive
Weekly Modern Jive class in Penwortham, Preston.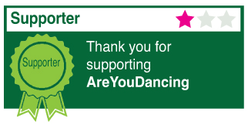 About Platinum Jive
Fancy a new challenge? Want to learn to dance? Maybe you want to take your dancing to the next level? Or maybe you just want to go out and socialise in a fun friendly atmosphere? Whatever your reason is, Platinum Jive is the place for you!
Platinum Jive is an independent Modern Jive Club based in the Preston area, running a weekly class on Thursday nights at St. Teresa's Parish Centre, Penwortham. You can either come on your own, in a pair or as a group. The dancers are rotated throughout the class to ensure we maximise you lead and follow potential. However, if you prefer to stick with a regular partner, we can accommodate this too.
Our Facilities include:
- Plenty of off-road parking
- Licensed Bar
- Comfortable Seating
- Raised Stage (so you can see the instructors)
- Disabled Access
- Wooden Dancefloor
- Experienced Instructors / Crew
- DJ
- Air Conditioning
- Friendly Crew / Staff
Class timings are as follows:
7.30pm - Doors Open
7.45pm - Beginners Class
8.45pm - Intermediates Class
9.30pm - Freestyle
10.30pm - Venue Closes
Price for class night is £7 per person
OTHER SERVICES* include:
- Private Tuition
- Group Workshops
- Wedding Dance Classes
- Wedding Choreography
- Variety of styles ranging from beginners to advanced aerials and dancing with multiple followers.
*These prices vary, please email and pop in and speak to a member of crew for further information.
Contact Name: Kate Kitchener
Dance Styles: Modern Jive, Smooth Modern Jive
Roles: Event Organiser, Dance Teacher, Regular Dance Classes, Wedding First Dance, Private Lessons
Main Area: Lancashire