Little Witley Swing Dance
Beginners fun & easy to learn Swing Dance Class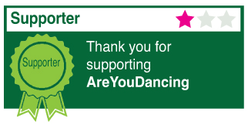 About Little Witley Swing Dance
Beginners fun & easy to learn Swing Dance.
Balboa is an upright, close-hold dance in the Swing Dance family. it started in California in the late 1920s, becoming very popular in the 30s & 40s, featuring in many films of the time.
Bal-Swing is a combination of the Balboa basic steps plus some Lindy Hop swing out moves.
£5 per class - pay on the door.
7.30 - 8.45 Doors open 7.15 Plenty of parking.
Everyone welcome to come & enjoy this relaxed & friendly class taught by experienced teachers. Come on your own or bring a partner. No previous experience needed.
Meet new people, get fit & have fun!
Contact Name: Barbara Davis
Dance Styles: Balboa
Roles: Regular Dance Classes
Main Area: Worcestershire