MJs Just Love To Dance
We have monthly freestyle dance style known as modern jive.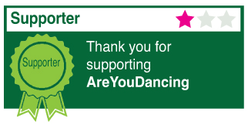 About MJs Just Love To Dance
The great thing about modern jive dance is it can be danced to all kinds of music from The Rat Pack right through to the latest Chart Hits. MJs are all fully trained and qualified Le Roc teachers (United KingdomAlliance of ProfessionalTeachersofDancing), so you know you are in safe hands.
MJ's is a great value fun night out for anyone who loves to dance. You will receive a friendly welcome from MJ's. Come along with friends or on your own, there are plenty of people there who will make you feel at home.
It's superb value for money. You will make friends, build your confidence, keep fit, and have fun.
MJ's has built up a reputation for being one of the friendliest clubs around. We hold monthly Freestyles, Workshops, Themed nights, Party nights, Summer BBQ, and our Weekend Away.
Contact Name: Malcolm Peazold
Dance Styles: Leroc, Modern Jive, West Coast Swing
Roles: Event Organiser, Dance Teacher, Regular Dance Classes, Wedding First Dance, Private Lessons
Events: Dance
Main Area: Kent
Website: http://www.mjsjustlovetodance.co.uk/
Forthcoming Events
Date
Event Name/Venue
Description/Dance Styles
MJs Friday Freesyle
Selsdon Hall
Dance
MJs Friday Freestyle
Leroc, Modern Jive