LeRoc Surrey Modern & Smooth Jive
Class run by LeRoc Surrey (The Jive In Dance Co)
Tuesday 26 September 2017
In Past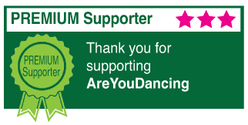 LeRoc Modern Jive & Smooth Classes & Freestyle Grand Hall, Dorking Halls
Dance Styles: Leroc, Modern Jive
Price: Members £9, Others £10, from 9.15pm £7/8(excludes specials)
Time: 7.45-11pm
Ticket Options: Pay on door
LeRoc has been here since 1999
Awesome new sound system
Learn new moves & dance the night away
Excellent with free parking and air con.
Bar & Coffee Lounge.
Papers & Tv!
join us from
7.45-11pm
Beginners class 7.55pm
Intermediate class 8.45pm
Freestyle 9.20-11pm
Adm £9 members
£10 non members
New Beginners can take the £10 for three nights package when doing the beginners classes
From 9.20pm £6/7
www.leroc.biz
Beginners Welcome Every Week.
No need to book, no need for a partner, just turn up!
7.55pm BEGINNER'S CLASS
Every night join other recent or complete beginners. 30 minute class where you will learn 3/4 Beginners moves.
FREESTYLE
Here you can either take a breather with our short break where where the music plays and is a great opportunity to practice the moves you have just learnt.
8.45pm CONSOLIDATION BEGINNERS SESSION
Takes place same time as the Intermediate class this is a great opportunity to go through the same moves you have just learnt a second time.
8.45pm INTERMEDIATE CLASS
After generally around 6-8 weeks after you first beginner classes, you can move up to the next class where you will learn up to 3-4 harder moves.
FREESTYLE 9.20- end of night
After the classes have ended, your night out really starts when the DJ freestyle session. Pure uninterrupted dance where you can improve your LeRoc style and soak up the atmosphere!
The floor awaits you

Dorking Halls venue
Come and dance
Excellent guest teachers
check web site for our latest information
www.leroc.dance
Signposted around Dorking for Dorking Halls & Sports Centre (which is next door)
Address: Reigate Road Dorking Surrey RH4 1SG
Show on Google Maps