Black Cat Friday - Back to Skool!
Dance run by Swingsters
Friday 08 September 2017
In Past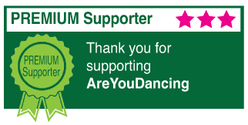 Fun class and freestyle dance Jon with DJ Jon Brett
Dance Styles: 1940s Jive, Balboa, Blues, Boogie Woogie, Charleston, Collegiate Shag, Jazz Steps, Leroc, Lindy Hop, Modern Jive, Rock n Roll, Smooth Modern Jive
Price: £8
Time: 8:00pm Midnight
Ticket Options: Pay on door
We are back to Skool in September - so dust off those skool uniforms, dig out your house ties and pick up your blazers from the floor. You are in for another rockin' and rollin and swingin' Night. Prize for the best Student.
We have the fantastic DJ Jon Brett on the decks playing music suitable for jive and lindy hop with an emphasis on swing and early R'n'B. It's definitely the coolest, funnest and friendliest place to be so get the weekend off to a swingin' start with awesome music and great dances.
Fun Shim-Sham ice-breaker class 8pm till 8.30pm. Don't be late or you'll get detention.
Large fans and aircon to keep you cool all night.
Penny Tuck Shop open - don't forget to bring your Tuck money.
Entrance: £8
Time: 8pm - Midnight - Detention if you are late.
A whole 4 hours of freestyle
Beautiful Dance Floor
Complimentary teas/coffees and the most delicious cakes
Large on site car park
Licensed Bar
Optional Dress Code: Skool Uniform - prize for the best student.
5 minute drive from the Black Cat Roundabout.
Lindy - Swing - Jive - whatever you dance, bring it & Swing
Black Cat Friday Freestyle venue
An evening of dance with Dj Jon Brett
Swing Jive Blues R'n'b
Fun Class 8-8:45 Freestyle till 11:45 Free tea & cakes @ 11:15
Licensed bar - plenty of parking
From the A1 Black cat roundabout follow Roxton & Gt Barford.
When in Gt Barford turn right at the Golden Cross restaurant into Green End Rd.
Then turn right into Fishers close approx 150 yds on the right.

Address: Great Barford Village Hall Fishers Close, Great Barford, Bedfordshire Great Barford Bedfordshire Bedfordshire MK44 3JL
Show on Google Maps

Swingsters organiser
Lindy Hop Swing Jive Charleston Balboa Blues Boogie Woogie Collegiate Shag Authentic Jazz
More in information about Swingsters including other forthcoming events