Beginners Ballroom Dance Class
Class run by Majestic Dance Club
Thursday 21 September 2017
In Past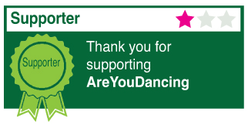 Beginners Social Dance Class
Dance Styles: Cha Cha Cha (Ballroom), Foxtrot, Jive (Ballroom), Quickstep, Waltz
Price: £7.50 per person per class including practice from 8:30 pm til 10pm
Time: 19:30 until 20:30 followed by practice until 22:00
Ticket Options: Pay on door
This is a class for absolute beginners who have never danced. The first class is 23rd March 2017, and weekly thereafter - join us any week, no need to book, but we do prefer to know to expect you.
You will be learning the following social dances: waltz, social foxtrot, quickstep, cha cha cha, and jive.
This class prepares you for learning the skills required to learn all other ballroom and latin-american dances. We also include an introduction to popular sequence dances later in the term.
All our classes offer a chance to practice what you are learning following the class on the same evening.
Medal tests are encouraged, available, and we run under the auspices of the IDTA.
Medal Test 8th October 2017
Majestic Dance Club @ Newburgh School venue
Dancing is in the large school hall which has a wonderful, well-maintained, wooden floor.
Off-road parking is available in the school car park.
From the school car park, walk along the front of the school past the main entrance, past the play sculpture, to the old school entrance. Enter through the double doors.
Address: Newburgh Primary School, Kipling Avenue Warwick Warwickshire CV34 6LD
Show on Google Maps