IDW's Fusion Dance Mini-Weekender!!
Weekend run by Island Dance Wizards
Saturday 23 September 2017 - Sunday 24 September 2017
In Past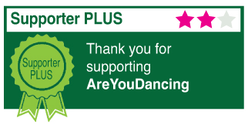 A Mini-Weekend Retreat to explore in an idyllic setting with Expert Professional Tuition
Dance Styles: Argentine Tango, Blues, Leroc, Modern Jive, Tango Nuevo, Fantasia, Tango Fusion, Contemporary Blues, Traditional (USA) Blues, Blues Fusion, Smooth Modern Jive
Price: £55 pp excl. accomm. (£48 Early Bird until end July). - N.B you MUST book as a Leader/Follower Pair.
Time: 10.30 Saturday until 14.30 Sunday
Ticket Options: Ticket Only (Prebooking essential)
Fusion Dancing ISN'T just dancing one Dance Style to the Music of another, or merely adapting Moves between Styles – an accomplished Fusion Dancer does SO much more than this…. But have you ever wondered what Fusion Dancing is REALLY all about?
IDW have great pleasure in presenting a Mini-Weekend Retreat in an idyllic setting to help dancers from all genres to work together and find out for themselves what Fusion Dancers can actually aspire to… Expect a dedicated Dance Community that works, eats and plays together to push the frontiers of Modern Partner Dancing…
We'll be basing the weekend around Blues Fusion, but it's suitable for Modern and/or Traditional Blues Dancers, Smooth Modern Jive Dancers, Tangueros and even Solo Dancers/Blues Beginners that want to experiment with REALLY connecting with a partner…
The weekend features two specialist Workshops on Saturday and a third on the Sunday morning, with options to book yourself a local B&B for the Saturday night or even stay on site if coming from further afield. All refreshments and lunch on Saturday are included, and there's the option to book a dinner with us for Saturday night or unwind at nearby restaurants and pubs… The class content is spread over several sessions and taken at a more exploratory pace than our famous *Intensive* Workshops, and there's plenty of Consolidation/Practice time with expert support on hand (which means dancers retain the learning points more effectively)… Email for full details!
Herons Centre venue
The Herons Centre is a beautiful venue with landscaped Japanese-style gardens. It has a large, airy studio with a wonderful floor and floor-to-ceiling glass doors – a truly inspiring location to work in!!
Limited Parking on Site
Camping is also available on site for £5 per person
There are also some B&B places available staying with us at the bungalow on site for £50 per person – please email us urgently if interested in this Option as there are an extremely limited number of places available on a first-come first-served basis…
Address: Wiremill Lane, Newchapel Near Lingfield Surrey RH7 6HJ
Show on Google Maps