Jivebeat LeRoc & Argentine Tango
Class run by Jivebeat / Tango Synthesis
Thursday 28 September 2017
In Past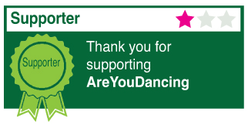 LeRoc Modern Jive and Argentine Tango classes
Dance Styles: Argentine Tango, Leroc, Modern Jive, Tango Nuevo
Price: £8
Time: 20:00-23:00
Ticket Options: Pay on door
Two great classes... one entry price! A modern jive class followed by an argentine tango class and over an hour of freestyle / practise time at the end for only £8
All classes start with the fundamentals so beginners are always welcome, but we always include something to challenge or interest those of you that have been dancing for ages.
See the website for the full schedule and class timings.
Hurst Green Community Centre venue
Tucked in beside the railway line, this friendly and welcoming venue often surprises first time visitors with how good a venue it is for dancing. It has a slightly-sprung wooden floor, a high arched ceiling, and a stage, and there is a hatch leading from the main hall into the kitchen where we serve refreshments and occasional snacks.
So if you are looking for a new Modern Jive and Tango venue on Thursday nights with an excellent floor, great music, and easy parking then look no further!
Directly behind the shops in Pollards Oak Road, or a 2 min walk from Hurst Green Station.
Address: 4 Oak Close Hurst Green Oxted Surrey RH8 0BA
Show on Google Maps