Monthly Back Room Swing Dance
Dance run by Dance With Me Henry
Sunday 17 December 2017
In Past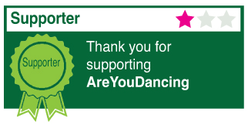 Swing dancing to music from the 30s and 40s!!
Dance Styles: 1940s Jive, Balboa, Boogie Woogie, Charleston, Collegiate Shag, East Coast Swing, Lindy Hop, West Coast Swing
Price: Admission: Just £4
Time: 7.30pm to 10.30pm or later!!!
Ticket Options: Pay on door
This is the place to dance on a Sunday night each month. Imagine the Harlem dance days in small clubs, then you will have an idea what to expect. This is the best Sunday night dance anywhere around Lichfield. Dance your socks off!! All for just £4 admission. It is held in the BACK ROOM of the George IV pub (next door to Lichfield Guildhall) and has a great reputation for great music, great beers and a great atmosphere. What more do you want on a Sunday night? Chico White is the DJ and he is always ready to lay on the very best music for you to dance to. Easy parking! Come to the best Swing night out on a Sunday night.
Back Room George IV Public House venue
The George IV is right next to the Guildhall. Plenty of parking!! Just a £1 to park on a Sunday night. Perfect for you!! Wear your best swing attire and dance from 7.30pm to 10.30pm or later to the best sounds from the 30s and 40s. Admission just £4. Chico White lays the music on for you so you know it will be great!! Look forward to seeing you there!!
Address: 34 Bore Steet Lichfield Staffordshire WS13 6JH
Show on Google Maps