Argentine Tango Classes/Practica
Class run by Island Dance Wizards
Thursday 05 October 2017
In Past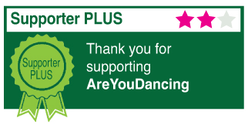 Friendly & Fun: Beginners & Intermediate/Advanced Tango lessons plus Social Dance/Practica
Dance Styles: Argentine Tango, Salon Tango, Tango Nuevo, Tango Vals, Tango Fusion
Price: £7.50 per evening
Time: 19.45 - 22.30
Ticket Options: Pay on door
Mandy and Basil, the Island Dance Wizards, run the Isle of Wight's friendliest lessons, workshops and events in a variety of social dance styles. Teaching is to the highest professional standard, so expect to learn faster and dance to a higher standard than at a conventional dance class/club. Island visitors and residents alike are always very welcome and there's something going on every night in different towns around the Island, so contact us for details (and please check your junk/spam folder for replies!)
On THURSDAYS in SHANKLIN we teach Argentine Tango - the most exciting and dramatic of the partner dances. Our lessons build on the highest level of traditional technique for successful social dancing and feature playful footwork including barridas, ganchos, sacadas etc., but also show you how to dance in confidence to contemporary music. We concentrate on really learning to move and improvise/react as a couple rather than just on memorising steps. Come and learn this stylish dance with our friendly, fun lessons - Experienced Tangueros/Island Visitors can just drop in on the weeks that suit them, Beginners should contact us to ask about the next course or how to catch up on the current Beginners' Course - you don't need to bring a partner!
Doors open 19.45, Beginners/Technique 20.00, Intermediate/Advanced 21.00, Practica from 22.00 (a chance to socialise with others, practice and have fun - we'll be on hand to answer questions or assist with lapses of memory!)
Shanklin Conservative Club venue
Easily accessible by car, bus, train... Lovely Floor, well stocked bar - if you are not a member, please ask to be signed in at the bar for the dance class.
The entrance to the building is around the back in Palmerston Road - there is plenty of parking (free in the evening) available in Regent Street opposite the front of the building. The Con Club is about 10 minutes walk from Shanklin Station or 5 minutes from the bus stop at Somerfield - ask for directions (*everyone* knows where it is!) or just keep walking down Regent Street - it's opposite the end of the road...
Address: 6 Palmerston Road Shanklin Isle of Wight PO37 6AU
Show on Google Maps