Modern Jive Class and Freestyle
Dance run by Want2Dance with Victoria
Thursday 09 November 2017
In Past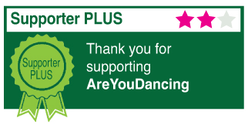 Modern Jive Classes and Freestyle
Dance Styles: Argentine Tango, Bachata, Cha Cha (Club), Mambo, Modern Jive, Rumba, Samba
Price: £7
Time: 7.45pm - 10.30pm
Ticket Options: Pay on door
The Beginners Class enables experienced dancers to consolidate and improve their Modern Jive, and Newbies can come and find out exactly what is so enthralling about it all.
Taking MJ one step further, the Juxtaposition Jive class won't ignore the development of new MJ moves but will teach a whole host of new dance styles - from Bachata to Mambo, Rumba to Tango - yet ALL to the same tracks that we already know, love, and dance to.
During the social, you will learn how to distinguish between a cha or a bachata, a samba or a tango, so that when you go to a freestyle, you can choose between dancing regular MJ, or something just that little bit different!
Together with a sprung maple floor, and plenty of parking, this aims to be the practice and social night of the week!
7.45pm – 8.15pm Beginners
8.15pm – 8.30pm Practice
8.30pm – 9pm Intermediates
9pm – 10.30pm Freestyle
Branston Village Hall venue
The Beginners Class enables experienced dancers to consolidate and improve their Modern Jive, and Newbies can come and find out exactly what is so enthralling about it all.
Taking MJ one step further, the Juxtaposition Jive class won't ignore the development of new MJ moves but will teach a whole host of new dance styles - from Bachata to Mambo, Rumba to Tango - yet ALL to the same tracks that we already know, love, and dance to.
During the social, you will learn how to distinguish between a cha or a bachata, a samba or a tango, so that when you go to a freestyle, you can choose between dancing regular MJ, or something just that little bit different!
Together with a sprung maple floor, and plenty of parking, this aims to be the practice and social night of the week!
Address: Clays Lane Burton upon Trent Staffordshire DE14 3HS
Show on Google Maps