The 1086 Dance practice/freestyle
Dance run by The 1086 Club
Thursday 11 January 2018
In Past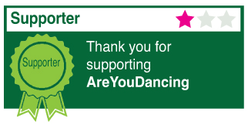 A dance practice freestyle night in a friendly social atmosphere
Dance Styles: Leroc, Modern Jive, West Coast Swing, Tango Fusion, Smooth Modern Jive
Price: £5
Time: 8pm - 11pm
Ticket Options: Pay on door
The 1086 Club is a dance practice group for anyone who enjoys social partner dancing. A place for dance freedom!
Are you bored of the same old tracks and type of music everywhere you go? We like to play music to suit a wide range of dancers with an emphasis on tracks that are upbeat, funky and fresh, with some expressive and slower tracks thrown in for a great mix.
We also welcome suggestions and requests.
We aim never to overplay tracks, keeping the music current while will still playing dancer's favourites and dance classics. You can check out our playlists on your YouTube channel 'The 1086 Club'.
Above all you will be able to have fun. :)
And it's OK to practice, experiment with new techniques, play around with current ones.
Ultimately our main aim is to provide the platform for all dancers to have fun and enjoy dance freedom.
Verwood Memorial Hall venue
The 1086 Club welcomes you to our first Saturday freestyle.
Welcome the summer in with great dancing in a lovely friendly atmosphere.
Together with our normal free refreshments we will also be providing free mocktail and free cocktail punchbowls. Our lovely venue has a great ventilation system to keep you cool no matter how warm it gets and there is plenty of free parking.
8pm – 11.30pm
£7
Tickets are on sale on the door
or go to:
http://buytickets.at/the1086club/93465
http://buytickets.at/the1086club/93477
or from Claire:
Contact Claire on 07877 989330 or email dancepractice1086@gmail.com
or from our Facebook page
https://www.facebook.com/1086dancepractice/app/153491221362738/
Address: Ringwood Road Verwood Dorset Verwood Bournemouth BH31 7AA
Show on Google Maps
The 1086 Club organiser
The 1086 Club offers freestyles for dance freedom in a friendly welcoming atmosphere.
Click here to view information about The 1086 Club including other forthcoming events