The 1086 Club freestyle
Dance run by The 1086 Club
Thursday 11 October 2018
In Past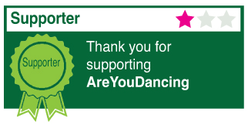 A friendly midweek freestyle
Dance Styles: Argentine Tango, Leroc, Modern Jive, West Coast Swing, Smooth Modern Jive
Price: £7
Time: 8pm - 11pm
Ticket Options: Not yet specified
A freestyle for dancers who enjoy smooth jive/modern jive / modern blues /tango dance fusion. The 1086 Club was created to give dancers a wide range of music to expand their dance experience and not to be held back by genres of dance styles and set music tempo - in short to provide dance freedom.
We are from a smooth jive background, however, our playlists are an eclectic mix which allows you to dance modern jive, smooth jive, modern blues, WCS and Tango.
We focus on the upbeat, feel good factor, we love funky and expressive and some good old swing too.
You can check out all our playlists on YouTube - just search The 1086 Club!
Verwood Memorial Hall venue
This is a lovely, well ventilated space for great dancing.
Free parking.
As you come into Verwood from the direction of the A31 the memorial hall is on your right next to a park. When you see an Indian restaurant and Tesco express on the left, the hall and park are on the right.
Address: Ringwood Road Verwood Bournemouth BH31 7AA
Show on Google Maps