Swing Revolucion M.K. - Free in Jan
Dance run by Swingsters
Thursday 25 January 2018
In Past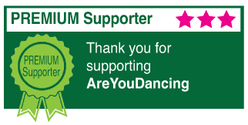 Swing & Jive Classes and Freestyle at the hottest venue in M.K.
Dance Styles: Balboa, Charleston, Collegiate Shag, Jive (Ballroom), Lindy Hop, Modern Jive, Traditional (USA) Blues, Smooth Modern Jive
Price: Beginners dance class Free
Time: 7:30pm-10:30pm ish
Ticket Options: Free Event
Exercise, Socialise & Energise with Swingsters at Revolución de Cuba MK
Beginners classes at Swing Revolución MK are FREE .
Following on from the success of 'Swing Cantina' Mike & Mel will be running a weekly swing dance class at Revolución de Cuba MK. A perfect opportunity to have fun, keep fit and make new friends while learning how to Swing dance at this great venue.
No need to book or to bring a partner, just turn up and have fun. We are situated in the Theatre District of MK. 2-4-1 Cocktails at Revolución de Cuba MK from 3pm till 7pm, get there early and enjoy a cocktail and tapas.
In every fun beginners class we will teach you the skills of lead & follow, how to connect with a partner along with teaching you basic footwork patterns that will get you started on the dance floor.
Evening Format:-
8pm till 8.45pm – Beginners Class & Freestyle/Practica
9pm till 9.30pm – Balboa Class & Freestyle/Practica £5
Both Classes & Freestyle/Practica £8
Where To Find Us:-
Revolución de Cuba MK, 21 Savoy Crescent, Milton Keynes MK9 3PU
See you on the dance floor
Mike & Mel
Exercise, Socialise & Energise
Swing Revolución MK the home of Caliente Swing
Revolucion de Cuba M.K. - Free class venue
Fantastic venue with amazing food and cocktails
Terrific ambience and lovely wooden dance floor
Lots of free parking on street in all directions plus several multi storey car parks
Opposite Xscape M.K.
Address: Revolución de Cuba, 21 Savoy Crescent Milton Keynes MK9 3PU Milton Keynes Milton Keynes MK9 3PU
Show on Google Maps

Swingsters organiser
Lindy Hop Swing Jive Charleston Balboa Blues Boogie Woogie Collegiate Shag Authentic Jazz
More in information about Swingsters including other forthcoming events