Improvers Lindy Hop in Minety
Class run by Swingstyle
Tuesday 09 January 2018
In Past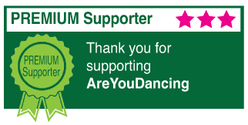 Improvers Lindy Hop classes with Swingstyle
Dance Styles: Lindy Hop
Price: £5 per class per person.
Time: Improvers 8:30 pm - 9:15pm
Ticket Options: Pay on door
Lindy Hop – Improvers 8.30pm. Course runs 9th January - 13th February.
Originating in the 1940's, the Lindy Hop is the root of all styles of Jive, and is a fun and expressive dance style.
Learn the basics of the Lindy Hop with us, using 6 and 8 count patterns. – We teach social dance, so guys don't worry, there's no lifting involved!
Still using our basics from beginners but adding to them, introducing more 8 count shapes and Charleston.
Classes run for 45 minutes, with 15 minutes practice session after class
Each class costs £5 per person pay each week that you come.
No partner or experience needed.
We recommend you wear loose fitting clothes and smooth soled shoes.
Tea and coffee provided or bring your own drinks.
Minety Village Hall venue
Minety Village Hall is a community facility that has been in use since 1932. It is an
important community building and is the venue for a wide range of activities catering for all ages.
Large free car park at the rear of the hall.
Address: Hornbury Hill Minety Malmesbury Wiltshire Wiltshire SN16 9QH
Show on Google Maps
Swingstyle organiser
Swing dance company based in Wiltshire, between us we have 38 years dancing/teaching experience.
More in information about Swingstyle including other forthcoming events