Smooth JIVE & Blues Class/Freestyle
Class run by Island Dance Wizards
Monday 26 March 2018
In Past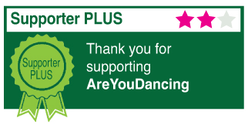 Classes in a Smooth/Blues-Influenced style of Modern Jive followed by Freestyle Dancing...
Dance Styles: Blues, Leroc, Modern Jive, Contemporary Blues, Smooth Modern Jive
Price: £7.00 - so no reason to feel Blue about it! ;)
Time: Doors Open 19.45, Beginners' Class at 20.00, Intermediates is at 21.00, Freestyle until 22.30
Ticket Options: Pay on door
Mandy and Basil, the Island Dance Wizards, run the Isle of Wight's friendliest lessons, workshops and events in a wide variety of social dance styles. Island visitors and residents alike are always very welcome at all of our events and there's something going on every night in different towns around the Island, so contact us for details (and check your junk/spam folder for replies!).
On MONDAYS we're moving our existing Night to a Bigger Venue in SANDOWN with a Better Floor and a Big Car Park right alongside that's FREE in the evening!
...and we're changing the format to Shorter Lessons (two levels - the first always suitable for complete beginners through to the most seasoned dancers) in a Smooth/Blues-Influenced style of Modern Jive* - followed by plenty of Freestyle Dancing!
*Easy to dance to almost any music and compatible with all of your Leroc/Ceroc/Modern Jive moves, but turning you into the sort of smoother Leader or Follower who can use their musicality and improvisational skills to really be in demand on the Dance Floor!
NEW to DANCE? Ladies and Gents, Singles and Couples, are all really welcome to join this class - It's fun and simple and don't forget you REALLY don't need to bring a partner - plus it's easier to learn to dance than you think - just drop in any week!
Don't forget we also run Workshops and our Social Dance Nights in Newport - Freestyle Partner Dancing in a friendly atmosphere to a wide variety of music and styles - email for details!

Methodist Church Hall Sandown venue
Big Hall 5 minutes walk from the famous beach
Great Floor
Big Car Park (FREE in evening) Right alongside (entrances in Station Avenue next to Conservative Club or from York Road)
Kitchen to make Tea, Coffee or Squash in...
What's not to like? ;)
From the Broadway (main Shanklin to/from Ryde route through Sandown) take Station Avenue down towards the sea front (turning right if coming from Shanklin, left if coming from Ryde). Drive to the lower end and turn right just past the Conservative Club into the car park alongside (public car park - FREE in evenings!) - park at opposite end - you're alongside the Methodist Church!! - Entrance to the hall is in York Road down a side passage to the right as you face the main Church entrance - can't miss it! :)
Address: York Road Sandown Isle of Wight PO36 8ET
Show on Google Maps