Swing Dance Beginners Course
Class run by Jazzmad
Wednesday 24 January 2018
In Past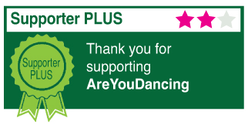 Learn to swing dance from scratch with the ultimate beginners course! No partner needed.
Dance Styles: 1940s Jive, Lindy Hop
Price: £180
Time: 7.00pm-8.30pm
Ticket Options: Ticket Only (Prebooking essential)
Learn how to swing dance from scratch, with the ultimate 12-week beginners program created by a world champion. No experience needed, no partner needed.
LENGTH: 12-week course, 90 minute classes
DATES: Every Wednesday from 10 January to 28 March 2018
TIME: 7.00pm-8.30pm
INSTRUCTORS: Cat Foley & Nancy Hitzig
COST: £180 per person
LOCATION: Academy Studios, 15 Pratt Mews, Camden NW1 0AD
DANCE STYLE: Swing Dance | Lindy Hop | Jitterbug
Learn the original swing dance from the 1930s and 1940s, called the Lindy Hop! It's a partner dance that is upbeat, social and a lot of fun! Lindy Hop was born in New York in the late 1920s and became a worldwide dance craze during the swing era. It's having a huge revival around the world now, and London is one of the best cities in the world to dance it in! Swing dancing is done to big band swing music, it's irresistibly toe-tapping!
Jazzmad organiser
London dance company & dance school specialising in authentic swing & jazz dances
More in information about Jazzmad including other forthcoming events