Lindy Hop lessons with Red & Ginger
Class run by Red & Ginger's Hot Vintage Dance
Monday 12 February 2018
In Past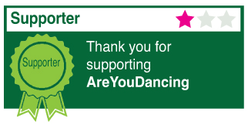 Lindy Hop, jitterbug, Charleston and vintage dance lessons in the Midlands
Dance Styles: Charleston, Collegiate Shag, Jazz Steps, Lindy Hop, Strolls
Price: £5 on the door, no partner needed, beginners welcome. Membership is £10 with every 6th lesson free.
Time: Term-time, Monday nights from 7.30pm until 9.30pm
Ticket Options: Pay on door
Red & Ginger's vintage dance lessons are exciting, energetic sessions in Charleston, Lindy Hop and Swing, with the emphasis on 'hot'! We believe the real essence of vintage dance is about having fun. This is what we mean by 'hot' and is what sets us apart.
We will teach you the moves in a relaxed, fun and friendly atmosphere in a truly special location.
You don't need to bring a partner (though fantastic if you do!) as there will be someone to dance with and we will come and dance with you too. We'll also be teaching some dances that don't require partners. You don't need to have danced before and you can bring as many left feet as you please.
For more information or to get in touch, come and see us at www.dancewithredandginger.com. We'd love to meet you!
St Mary's Church Hall, Stretton venue
Please visit www.dancewithredandginger.com/lessons for exact directions and a handy Google Street View link.
Access Hillfield Lane from Main Street/Church Road, keep Hillfield House nursing home on your right. 100 yards ahead on your left is a telegraph pole before the turn for Fairham Road. Turn at the telegraph pole for the church hall.
Address: St Mary's Church Hall, Stretton, Burton-on-Trent Derby DE13 0BW
Show on Google Maps