GBH Ceilidhs
Dance run by GBH Ceilidhs
Saturday 03 March 2018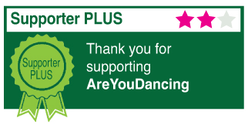 Barn Dance with the Dartmoor Pixie Band
Dance Styles: Barn Dance, Country Dance
Price: £12 (members £11) Reduced prices for parties and families. See website for details.
Time: Doors 7.45pm. Dance 8.00pm to 11.00pm
Ticket Options: Ticket Recommended (Pay on door if places available)
The Dartmoor Pixie Band are an English country dance band (or Ceilidh Band) from the heart of Devon and are steeped in the musical and dance tradition of Dartmoor. Their mix of Melodeon, Piano Accordion, Banjo, Drums and Bass produces a sound that is very much their own and will have you tapping your feet, or better still will have you up and dancing your socks off. They have played together for more years than they care to remember so their style and repertoire is distinctly their own. The band has their own resident caller, Sarah Bazeley, with a large repertoire of dances for all abilities so whether you're a do-si-do expert or have never danced before you're sure to have a good fun evening.
GBH Ceilidhs have been going since 1976. The raison d'etre has always been to book the best and most exciting English folk dance bands and dance callers from all over the country. Experts and newcomers are all welcome, especially the latter as it is important that we keep the tradition alive and thriving.
Godalming Borough Hall venue
Large Edwardian hall with character and sprung floor. Capacity 160. It has a licenced bar.
BY ROAD
To find the Borough Hall you need to come into Godalming, from either
direction, on the B3100. You might find this link to Google map helpful.
Whichever way you come into the centre of Godalming, keep going until you come to the roundabout by the disused church (now a restaurant). Turn towards The Burys and, after 100 yards, turn left into the car park behind the Council offices, which is free after 6.00pm. The Borough Hall can be accessed via a narrow lane by the offices.
BY RAIL
Godalming station is on the main line to Portsmouth from Waterloo.
You might find this link to South West Trains Mini-Guide helpful.
The Borough Hall is a ten-minute walk from the staion. When you
come out of the station turn left and head towards the church spire.
Take the foot path
Address: Bridge Street Godalming Surrey GU7 1HR
Show on Google Maps
GBH Ceilidhs organiser
Regular English ceilidh/barn dance club that has been meeting during the winter months since 1976.
More in information about GBH Ceilidhs including other forthcoming events