Intermediate Swing/Charleston/Lindy
Class run by Miss Foxytrot's Retro Dance School
Monday 09 April 2018
In Past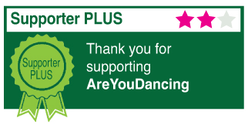 Swing / Charleston / Lindy Beginners class
Dance Styles: Charleston, East Coast Swing, Jazz Steps, Lindy Hop
Time: 7pm to 8pm
Ticket Options: Not yet specified
This class Is a class for dancers with more than 1 year of experience dancing Lindy / Swing / Charleston.
We offer a warm welcome whether you come with a partner or not. Partners rotate frequently throughout the lesson.
Class starts at 7pm so allow time for parking and changing shoes. The all has limited parking which requires a permit ( obtained when you arrive).
Dancers are welcome to join the dance practise that happens at 8 o'clock following the intermediate class. This normally finishes around 8.45pm.
St Gluvias Hall venue
Accessible from West Street via an iron gate a few doors down from St Stephens Memorial Hall.
Or via Calver Close (off west Street) by car.
Limited dedicated parking.
Penryn Train Station is a 5 minute walk.
from Commercial Road or the Train station, turn onto West street as if heading into Penryn. Calver Close is a fairly modern housing estate off West Street before the Thirsty Scholar pub.
Address: Calver Close, Penryn Cornwall TR108SG
Show on Google Maps