Ceroc Plus Fleet
Class run by Ceroc Plus
Thursday 22 March 2018
In Past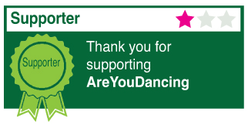 Ceroc Plus. The fun, social, partner dance Ceroc in Fleet and Alton, Hampshire.
Dance Styles: Modern Jive
Price: £8 on the door, £6.50 for freestyle after 9.40pm
Time: Beginners class starts at 8pm, Intermediate 9pm, freestlye from 9.40pm
Ticket Options: Pay on door
At Fleet we have classes from the fab Jules Manning and fantastic music through the freestyle, you can't go wrong. Our regular nights have a Beginners class at 8pm, Intermediate at 9pm (anda Beginners repeat session) and then freestlye from 9.40pm
We have party nights from time to time so if you are visiting us for the first time it is worth checking the website first or you may turn up to find us all in fancy dress!
FLEET
8pm: beginners class (main hall)
9pm: intermediate class (main hall) and beginners practice session (bar area) with our taxi manager.
9.40 until 11.00: freestyle dancing
FREE tea coffee and biscuits after last dance.
The Harlington
Fleet Road
Fleet
GU51 4BY
Beginners welcome every week
No need to bring a partner, just turn up!
The Harlington venue
The Harlington, Fleet is a busy and popular venue. We run a beginners and an intermediate class on all our standard nights. We occasionally run party nights which are a blast and can be found on our website www.cerocplus.co.uk
We have new members pretty much every week so if you haven't danced before you won't be alone. You don't need to bring a partner, just turn up!
The Harlington is on Fleet Road in Fleet. It is opposite a bar called Propaganda and there is a car park to the front. Be warned though, the car park in front is the most expensive in the evenings! Instead of turning into the front car park go up and left (behind the pub) and there is another public car park that is £1 all evening.
Address: 236 Fleet Road Fleet Hampshire GU51 4BY
Show on Google Maps