West Coast Swing Dance Lessons
Class run by WestCo's Swing
Monday 28 May 2018
In Past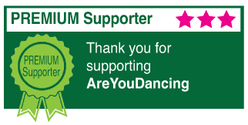 WestCo's Swing provide quality teaching in the coolest dance West Coast Swing on Thursdays
Dance Styles: West Coast Swing
Price: £10 payable on door with loyalty card scheme
Time: Starts at 7.30pm with beginners and ends at 11pm
Ticket Options: Not yet specified
Come learn probably the coolest dance on the planet West Coast Swing.
Here is a link for you to check out how fun and creative this dance allows you to be and the variety of music genres it can be danced to. It is a smooth, slotted dance which is accessible for all!
https://www.youtube.com/watch?v=v4fRV0aG3lc
At WestCo's we pride ourselves in providing high quality teaching in a friendly environment where learning is fun and you feel supported by the crew and other members.
We believe there are no such thing as strangers, just friends you have not met yet :)
So come on down and get your WestCo's groove on with us!
7.30 till 10.30 on Mondays
There will be squash, tea and coffee available free of charge.
You are welcome to bring drinks with you but please do take the rubbish home with you. Thanks
Text 07824 828510 for more information
Email - westcos.swing@gmail.com
FB Page - https://www.facebook.com/westcos.surrey/
FB Group - https://www.facebook.com/groups/374547643013481/
Instagram - westcos_swing
Leatherhead Institute venue
WestCo's Swing have run classes West Coast Swing in Petts Wood for over 8 years and are now opening weekly classes on a Monday night in the fabulous Abraham Dixon Hall in the Leatherhead Institute.
Class Starts 7.30
Evening Ends 10.30
*Meet up after in local pub for coffee or drink for those that wish to
Two classes a night will run with a Drillz n Skillz class at the start as a warm up but also as technical practice to assist your dancing and the classes following.
The classes will be multi level and variations will be given for more experienced dancers. SO whether you have never danced before or have some experience, you will be catered for in our classes.
£10 on door with loyalty scheme
*Reduced Price 6 week courses available regularly
There is a small car park at the rear of the building but the gates will be closed for the evening at 10.40pm only ten minutes after the class finishes.
Apparently there is plenty of free parking in the streets around and a car park nearby too.
Please do check road travel as roadworks will be starting in the area soon and may affect access a little. Will update as find out more.
The venue is less than 10 minutes walk from Leatherhead train station
Address: 67 High Street Leatherhead Surrey KT22 8AH
Show on Google Maps

WestCo's Swing organiser
Warm WestCo's Welcome Awaits -Weekly West Coast Swing classes in Petts Wood, Leatherhead & Hothfield
More in information about WestCo's Swing including other forthcoming events