47th Stonesfield Folk Dance Weekend
Weekend run by Stonesfield Folk Dance Club
Friday 07 June 2019 - Sunday 09 June 2019
In Past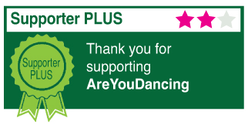 Andrew Swaine & Daisy Black with The Night Before
Dance Styles: Contra, Country Dance, Square Dance
Price: Weekend £50.00 Fri £10. Sat £30. Sun £20.
Time: 7.30pm Friday to 5pm Sunday.
Ticket Options: Ticket Only (Prebooking essential)
Andrew Swaine is an acclaimed Caller who has called at all the major folk dance festivals & he has run a popular Playford Dance Weekend at Halsway for last 3 years. Andrew has done a great deal of research into Playford Dances and is also an accomplished Contra caller.This will be his first time at Stonesfield and we are looking forward to welcoming him to Oxfordshire for the first time. Andrew will be presenting his workshops on the theme " the progression of progression" how country dances evolved from the 1651 edition of the English Dancing Master onwards.
Andrew's wife Daisy Black is a sought after caller who has appeared at Festivals including Sidmouth. Daisy is also a celebrated Storyteller who will have the story of William Kempe and his "Nine Days Wonder" which will be told with dance interludes and perhaps a ballad or two from Alan Kimber-Nicholson.
The programme is still being assembled and details of this will be posted on this site from time to time. Rest assured as usual it will be a very interesting programme!
The musicians will be THE NIGHT BEFORE who again will be in Oxfordshire for the first time. Again they have appeared at all the major Folk Dance Festivals.
A Special Guest is Alan Kimber-Nicholson who is going to sing a selection of English Folk Songs and a CD of these will be given to everyone attending to enjoy listening to in the future.
Stonesfield Village Hall venue
Address: Field Close Stonesfield Oxfordshire OX29 8EF
Show on Google Maps