Advanced Lindy Hop masterclass
Workshop run by Brighthelm Swing
Saturday 23 June 2018
In Past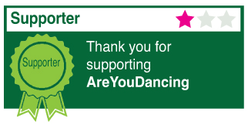 Advanced Lindy Hop masterclass with Bic and Simone
Dance Styles: Collegiate Shag
Price: £25
Time: 1.30-4.30pm
Ticket Options: Ticket Only (Prebooking essential)
We are delighted to welcome back Bic and Simone as the teachers for the advanced Lindy Hop masterclass in Brighton in June.Bic and Simone are highly regarded dancers, teachers and performers all over the UK and parts of the world too. They are tirelessly dedicated to furthering swing dance to the wider community with their amazing weekends. Bic and Simone have a reputation for their focus on technique in their teaching.
They will be teaching an Advanced Lindy Hop masterclass for those dancers who have grown out of the great classes currently offered in the Brighton area and want to move their dancing from 'good' to 'outstanding'. The cost of the masterclass is £25 per dancer: there are limited places so that we can all benefit from their focused teaching.
The annoying small print
Keeping a sensible balance between leads and follows makes for better dance classes, Lead and follow booking as a pair will automatically be accepted, leads will automatically be accepted, follows will be put on a waiting list and matched up as leads book spaces. Your place is not reserved until payment is received. Please be honest with yourself when deciding if this masterclass is appropriate to your Lindy Hop level. The teachers share lots of material and move on quickly. Places are limited and tickets are not refundable. Tickets are transferrable to a dancer taking the same role as the one purchased.
Any questions? Email brighthelmswing@gmail.com
Patcham Memorial Hall venue
The Hall is a white wooden building, tucked next to Patcham House School, half way along on the west side of Old London Road, parallel to the A23. There is lots of free parking, though we are in a residential area, so please take that into account.
Just off the A23 as it enters the City of Brighton and Hove, and near the southbound exits from the A27 Worthing to Lewes bypass.
Local bus 5A from Brighton city centre stops right outside, and just up the road by the Co-operative shop. It's the terminus for the 56 from London Road shops. Longer-distance buses 17, 33, 40, 270 and others from Haywards Heath, Horsham, Gatwick, and other places north of Brighton stop on the main London Road, near the Black Lion / Miller and Carter pub, and at the south end of Old London Road.
To get here by train, come to Preston Park Station, direct from Brighton, and stations to/from London. It is about a 15 minute walk north. The 5A and out-of-town buses pass near the station, and are quite frequent.
Address: 3 Old London Road Brighton Sussex BN1 8XR
Show on Google Maps