Ceroc Musicality Workshop
Workshop run by Ceroc Surrey
Sunday 30 September 2018
In Past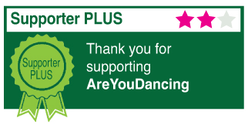 Ceroc Musicality Workshop
Dance Styles: Leroc, Modern Jive, Blues Fusion, Smooth Modern Jive
Price: £25.00 per person
Time: 13.00 - 16.00
Ticket Options: Ticket Only (Prebooking essential)
Do you really understand musicality in dance??
In this workshop your specialist teacher Veronika will teach you the tips and tricks to connection.
You will learn the styling that you can add into moves...
Learn to listen for patterns and changes in songs that lead movements...
Veronika will show you how to utilize simple moves and them develop them, matching the style and movement to the music thus illustrating how to apply musicality.
Then you get to practice everything you have learnt into her watchful eyes.
To find out more details or to book your place please refer to https://www.ceroc.com/67/1241/ceroc-surrey or call 07938 520696
West Clandon venue
Most people learn Ceroc by regularly attending once a week. If however you want to learn quicker, we host intensive weekend Workshop at this venue in an idyllic setting in Surrey.
The Workshops are designed to improve confidence and ability, although very relaxed and fun, they will really help you improve your dancing.
Free car parking
Clandon Station is 2 minutes walk from the Village Hall
5 minutes from A3 and 10 minutes from M25
Address: Village Hall, The Street West Clandon Surrey GU4 7TE
Show on Google Maps